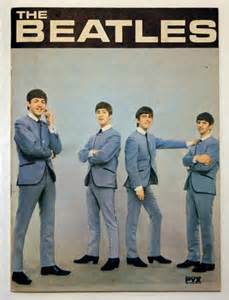 Top Ten Charts 1964
The top ten charts 1964 is a list of the weekly singles that were ranked by Billboard and peaked on the Hot 100 chart in the top ten for 1964. You will be able to track how your favorite song changed position in the top ten. The following is a time capsule for the year of 1964:
In the world, Nelson Mandela is sentenced to life imprisonment in South Africa. Congress approves Gulf of Tonkin Resolution after North Vietnamese torpedo boats allegedly attack US destroyers. Khushchev is deposed as leader of Russia.
National events, Lyndon Johnson defeats Barry Goldwater in a landslide election with 61% of the vote as is elected president. President's Commission on the Assassination of President Kennedy issues Warren Report concluding that Lee Harvey Oswald acted alone. US Supreme Court rules that Congressional districts should be roughly equal in population.
Fads, Beatlemania sweeps the United States. The Ford Mustang is the most popular car of the era.
In sports, the St. Louis Cardinals defeat the New York Yankees in the World Series 4 games to 3. The Cleveland Browns defeat the Baltimore Colts in the NFL Championship game. Cassius Clay stuns Sony Liston to win the World Heavyweight Boxing Championship.
In television, the top three TV series are: Bonanza, Bewitched, and The Andy Griffith Show.

1964 Ford Mustang Convertible

In Music, Beatlemaina sweeps the Hot 100 chart with "I Want To Hold Your Hand" and becomes the record of the year. They also set a record with six number one hit singles the most of any act in the history of the Hot 100 chart. In 1964, there are 23 #1 hit songs, and 715 singles to chart on the H0t 100.

The Beatles set another Billboard record on the Hot 100 Chart on April 4, 1964, they have the first five positions in the top ten. This is the only time in the history of the Hot 100 chart that one act or group had songs in the first 5 positions.
The Top Ten Charts
The top ten charts for 1964 will show the following information:
Date chart was published
Last Week (Ranking of the song the prior week)
This Week (Current ranking)
Title
Artist
Number of weeks song stayed in the top ten
Number of weeks song was at #1
JANUARY 4, 1964
LAST
THIS
WEEK
WEEK
TITLE
ARTIST
T10
#1
2
1
There! I've Said It   Again
Bobby Vinton
4
1
3
2
Louie, Louie
Kingsmen
5
1
3
Dominique
Singing Nun
7
4
4
4
Since I Fell For You
Lenny Welch
4
7
5
Forget Him
Bobby Rydell
2
8
6
Popsicles And Icicles
Mermaids
3
9
7
Talk Back Trembling Lips
Johnny Tillotson
2
12
8
Quicksand
Martha & The Vandellas
1
13
9
The Nitty Gritty
Shirley Ellis
1
11
10
Midnight Mary
Joey Powers
1
JANUARY 11, 1964
LAST
THIS
WEEK
WEEK
TITLE
ARTIST
T10
#1
1
1
There! I've Said It   Again
Bobby Vinton
5
2
2
2
Louie, Louie
Kingsmen
6
6
3
Popsicles And Icicles
Mermaids
4
3
4
Dominique
Singing Nun
8
4
5
5
Forget Him
Bobby Rydell
3
4
6
Since I Fell For You
Lenny Welch
5
13
7
Surfin' Bird
Trashmen
1
9
8
The Nitty Gritty
Shirley Ellis
2
7
9
Talk Back Trembling Lips
Johnny Tillotson
3
10
10
Midnight Mary
Joey Powers
2
JANUARY 18, 1964
LAST
THIS
WEEK
WEEK
TITLE
ARTIST
T10
#1
1
1
There! I've Said It   Again
Bobby Vinton
6
3
2
2
Louie, Louie
Kingsmen
7
3
3
Popsicles And Icicles
Mermaids
5
5
4
Forget Him
Bobby Rydell
4
7
5
Surfin' Bird
Trashmen
2
4
6
Dominique
Singing Nun
9
4
19
7
Hey Little Corba
Rip Chords
1
8
8
The Nitty Gritty
Shirley Ellis
3
20
9
Out Of Limits (I)
Marketts
1
13
10
Drag City
Jan & Dean
1
JANUARY 25, 1964
LAST
THIS
WEEK
WEEK
TITLE
ARTIST
T10
#1
1
1
There! I've Said It   Again
Bobby Vinton
7
4
2
2
Louie, Louie
Kingsmen
8
45
3
I Want To Hold Your Hand
Beatles
1
5
4
Surfin' Bird
Trashmen
3
3
5
Popsicles And Icicles
Mermaids
6
9
6
Out Of Limits (I)
Marketts
2
7
7
Hey Little Corba
Rip Chords
2
4
8
Forget Him
Bobby Rydell
5
14
9
Um, Um, Um, Um, Um, Um
Major Lance
1
10
10
Drag City
Jan & Dean
2
FEBRUARY 1, 1964
LAST
THIS
WEEK
WEEK
TITLE
ARTIST
T10
#1
3
1
I Want To Hold Your Hand
Beatles
2
1
13
2
You Don't Own Me
Lesley Gore
1
6
3
Out Of Limits (I)
Marketts
3
4
4
Surfin' Bird
Trashmen
4
7
5
Hey Little Corba
Rip Chords
3
2
6
Louie, Louie
Kingsmen
9
1
7
There! I've Said It   Again
Bobby Vinton
8
4
9
8
Um, Um, Um, Um, Um, Um
Major Lance
2
16
9
Anyone Who Had A Heart
Dionne Warwick
1
14
10
For You
Rick Nelson
1
FEBRUARY 8, 1964
LAST
THIS
WEEK
WEEK
TITLE
ARTIST
T10
#1
1
1
I Want To Hold Your Hand
Beatles
3
2
2
2
You Don't Own Me
Lesley Gore
2
3
3
Out Of Limits (I)
Marketts
4
5
4
Hey Little Corba
Rip Chords
4
8
5
Um, Um, Um, Um, Um, Um
Major Lance
3
4
6
Surfin' Bird
Trashmen
5
21
7
She Loves You
Beatles
1
10
8
For You
Rick Nelson
2
9
9
Anyone Who Had A Heart
Dionne Warwick
2
7
10
There! I've Said It   Again
Bobby Vinton
9
4
FEBRUARY 15, 1964
LAST
THIS
WEEK
WEEK
TITLE
ARTIST
T10
#1
1
1
I Want To Hold Your Hand
Beatles
4
3
2
2
You Don't Own Me
Lesley Gore
3
7
3
She Loves You
Beatles
2
4
4
Hey Little Corba
Rip Chords
5
5
5
Um, Um, Um, Um, Um, Um
Major Lance
4
8
6
For You
Rick Nelson
3
3
7
Out Of Limits (I)
Marketts
5
9
8
Anyone Who Had A Heart
Dionne Warwick
3
13
9
Java (I)
Al Hurt
1
11
10
What Kind Of Fool
Tames
1
FEBRUARY 22, 1964
LAST
THIS
WEEK
WEEK
TITLE
ARTIST
T10
#1
1
1
I Want To Hold Your Hand
Beatles
5
4
3
2
She Loves You
Beatles
3
11
3
Dawn
Four Seasons
1
2
4
You Don't Own Me
Lesley Gore
4
9
5
Java (I)
Al Hurt
2
5
6
Um, Um, Um, Um, Um, Um
Major Lance
5
4
7
Hey Little Corba
Rip Chords
6
14
8
California Sun
Riverias
1
10
9
What Kind Of Fool
Tames
2
21
10
Navy Blue
Diane Renay
1
FEBRUARY 29, 1964
LAST
THIS
WEEK
WEEK
TITLE
ARTIST
T10
#1
1
1
I Want To Hold Your Hand
Beatles
6
5
2
2
She Loves You
Beatles
4
3
3
Dawn
Four Seasons
2
5
4
Java (I)
Al Hurt
3
8
5
California Sun
Riverias
2
29
6
Please Please Me
Beatles
1
4
7
You Don't Own Me
Lesley Gore
5
10
8
Navy Blue
Diane Renay
2
12
9
Stop And Think It Over
Dale & Grace
1
6
10
Um, Um, Um, Um, Um, Um
Major Lance
6
MARCH 7, 1964
LAST
THIS
WEEK
WEEK
TITLE
ARTIST
T10
#1
1
1
I Want To Hold Your Hand
Beatles
7
6
2
2
She Loves You
Beatles
5
3
3
Dawn
Four Seasons
3
6
4
Please Please Me
Beatles
2
4
5
Java (I)
Al Hurt
4
5
6
California Sun
Riverias
3
8
7
Navy Blue
Diane Renay
3
9
8
Stop And Think It Over
Dale & Grace
2
17
9
Fun, Fun, Fun
Beach Boys
1
12
10
See The Funny Little Clown
Bobby Goldsboro
1
MARCH 14, 1964
LAST
THIS
WEEK
WEEK
TITLE
ARTIST
T10
#1
1
1
I Want To Hold Your Hand
Beatles
8
7
2
2
She Loves You
Beatles
6
4
3
Please Please Me
Beatles
3
3
4
Dawn
Four Seasons
4
5
5
Java (I)
Al Hurt
5
7
6
Navy Blue
Diane Renay
4
9
7
Fun, Fun, Fun
Beach Boys
2
6
8
California Sun
Riverias
4
10
9
See The Funny Little Clown
Bobby Goldsboro
2
11
10
I Love You More And More Every Day
Al Martino
1
MARCH 21, 1964
LAST
THIS
WEEK
WEEK
TITLE
ARTIST
T10
#1
2
1
She Loves You
Beatles
7
1
1
2
I Want To Hold Your Hand
Beatles
9
7
3
3
Please Please Me
Beatles
4
4
4
Dawn
Four Seasons
5
7
5
Fun, Fun, Fun
Beach Boys
3
6
6
Navy Blue
Diane Renay
5
55
7
Twist And Shout
Beatles
1
5
8
Java (I)
Al Hurt
6
10
9
I Love You More And More Every Day
Al Martino
2
13
10
Hello Dolly!
Louis Armstrong
1
MARCH 28, 1964
LAST
THIS
WEEK
WEEK
TITLE
ARTIST
T10
#1
1
1
She Loves You
Beatles
8
2
2
2
I Want To Hold Your Hand
Beatles
10
7
7
3
Twist And Shout
Beatles
2
3
4
Please Please Me
Beatles
5
4
5
Dawn
Four Seasons
6
5
6
Fun, Fun, Fun
Beach Boys
4
19
7
Suspicion
Terry Stafford
1
10
8
Hello Dolly!
Louis Armstrong
2
13
9
My Heart Belongs To Only You
Bobby Vinton
1
15
10
Glad All Over
Dave Clark Five
1
APRIL 4, 1964
LAST
THIS
WEEK
WEEK
TITLE
ARTIST
T10
#1
27
1
Can't Buy Me Love
Beatles
1
1
3
2
Twist And Shout
Beatles
3
1
3
She Loves You
Beatles
9
2
2
4
I Want To Hold Your Hand
Beatles
11
7
4
5
Please Please Me
Beatles
6
7
6
Suspicion
Terry Stafford
2
8
7
Hello Dolly!
Louis Armstrong
3
16
8
Shoop Shoop Song
Betty Everett
1
9
9
My Heart Belongs To Only You
Bobby Vinton
2
10
10
Glad All Over
Dave Clark Five
2
APRIL 11, 1964
LAST
THIS
WEEK
WEEK
TITLE
ARTIST
T10
#1
1
1
Can't Buy Me Love
Beatles
2
2
2
2
Twist And Shout
Beatles
4
6
3
Suspicion
Terry Stafford
3
3
4
She Loves You
Beatles
10
2
7
5
Hello Dolly!
Louis Armstrong
4
8
6
Shoop Shoop Song
Betty Everett
2
4
7
I Want To Hold Your Hand
Beatles
12
7
10
8
Glad All Over
Dave Clark Five
3
5
9
Please Please Me
Beatles
7
14
10
Don't Let The Rain Come Down
Serendipity Singers
1
APRIL 18, 1964
LAST
THIS
WEEK
WEEK
TITLE
ARTIST
T10
#1
1
1
Can't Buy Me Love
Beatles
3
3
2
2
Twist And Shout
Beatles
5
3
3
Suspicion
Terry Stafford
4
5
4
Hello Dolly!
Louis Armstrong
5
14
5
Do You Want To Know A Secret
Beatles
1
6
6
Shoop Shoop Song
Betty Everett
3
8
7
Glad All Over
Dave Clark Five
4
4
8
She Loves You
Beatles
11
2
10
9
Don't Let The Rain Come Down
Serendipity Singers
2
15
10
Dead Man's Curve
Jan & Dean
1
APRIL 25, 1964
LAST
THIS
WEEK
WEEK
TITLE
ARTIST
T10
#1
1
1
Can't Buy Me Love
Beatles
4
4
2
2
Twist And Shout
Beatles
6
5
3
Do You Want To Know A Secret
Beatles
2
4
4
Hello Dolly!
Louis Armstrong
6
3
5
Suspicion
Terry Stafford
5
7
6
Glad All Over
Dave Clark Five
5
11
7
Bits And Pieces
Dave Clark Five
1
9
8
Don't Let The Rain Come Down
Serendipity Singers
3
14
9
My Guy
Mary Wells
1
10
10
Dead Man's Curve
Jan & Dean
2
MAY 2, 1964
LAST
THIS
WEEK
WEEK
TITLE
ARTIST
T10
#1
1
1
Can't Buy Me Love
Beatles
5
5
4
2
Hello Dolly!
Louis Armstrong
7
3
3
Do You Want To Know A Secret
Beatles
3
7
4
Bits And Pieces
Dave Clark Five
2
9
5
My Guy
Mary Wells
2
8
6
Don't Let The Rain Come Down
Serendipity Singers
4
2
7
Twist And Shout
Beatles
7
5
8
Suspicion
Terry Stafford
6
10
9
Dead Man's Curve
Jan & Dean
3
17
10
Ronnie
Four Seasons
1
MAY 9, 1964
LAST
THIS
WEEK
WEEK
TITLE
ARTIST
T10
#1
2
1
Hello Dolly!
Louis Armstrong
8
1
3
2
Do You Want To Know A Secret
Beatles
4
5
3
My Guy
Mary Wells
3
4
4
Bits And Pieces
Dave Clark Five
3
1
5
Can't Buy Me Love
Beatles
6
5
6
6
Don't Let The Rain Come Down
Serendipity Singers
5
10
7
Ronnie
Four Seasons
2
9
8
Dead Man's Curve
Jan & Dean
4
8
9
Suspicion
Terry Stafford
7
11
10
White On White
Danny Williams
1
MAY 16, 1964
LAST
THIS
WEEK
WEEK
TITLE
ARTIST
T10
#1
3
1
My Guy
Mary Wells
4
1
1
2
Hello Dolly!
Louis Armstrong
9
1
12
3
Love Me Do
Beatles
1
4
4
Bits And Pieces
Dave Clark Five
4
2
5
Do You Want To Know A Secret
Beatles
5
7
6
Ronnie
Four Seasons
3
6
7
Don't Let The Rain Come Down
Serendipity Singers
6
8
8
Dead Man's Curve
Jan & Dean
5
10
9
White On White
Danny Williams
2
13
10
It's Over
Roy Orbison
1
MAY 23, 1964
LAST
THIS
WEEK
WEEK
TITLE
ARTIST
T10
#1
1
1
My Guy
Mary Wells
5
2
3
2
Love Me Do
Beatles
2
2
3
Hello Dolly!
Louis Armstrong
10
1
14
4
Chapel Of Love
Dixie Cups
1
12
5
Love Me With All Your Heart
Ray Charles
1
4
6
Bits And Pieces
Dave Clark Five
5
13
7
(Just Like) Romeo & Juliet
Reflections
1
6
8
Ronnie
Four Seasons
4
10
9
It's Over
Roy Orbison
2
30
10
A World Without Love
Peter & Gorden
1
MAY 30, 1964
LAST
THIS
WEEK
WEEK
TITLE
ARTIST
T10
#1
2
1
Love Me Do
Beatles
3
1
4
2
Chapel Of Love
Dixie Cups
2
1
3
My Guy
Mary Wells
6
2
5
4
Love Me With All Your Heart
Ray Charles
2
3
5
Hello Dolly!
Louis Armstrong
11
1
7
6
(Just Like) Romeo & Juliet
Reflections
2
10
7
A World Without Love
Peter & Gorden
2
11
8
Little Children
Billy J. Kramer
1
9
9
It's Over
Roy Orbison
3
16
10
Walk On By
Dionne Warwick
1
JUNE 6, 1964
LAST
THIS
WEEK
WEEK
TITLE
ARTIST
T10
#1
2
1
Chapel Of Love
Dixie Cups
3
1
1
2
Love Me Do
Beatles
4
1
3
3
My Guy
Mary Wells
7
2
4
4
Love Me With All Your Heart
Ray Charles
3
5
5
Hello Dolly!
Louis Armstrong
12
1
7
6
A World Without Love
Peter & Gorden
3
10
7
Walk On By
Dionne Warwick
2
8
8
Little Children
Billy J. Kramer
2
6
9
(Just Like) Romeo & Juliet
Reflections
3
11
10
P.S. I Love You
Beatles
1
JUNE 13, 1964
LAST
THIS
WEEK
WEEK
TITLE
ARTIST
T10
#1
1
1
Chapel Of Love
Dixie Cups
4
2
6
2
A World Without Love
Peter & Gorden
4
4
3
Love Me With All Your Heart
Ray Charles
4
2
4
Love Me Do
Beatles
5
1
3
5
My Guy
Mary Wells
8
2
7
6
Walk On By
Dionne Warwick
3
8
7
Little Children
Billy J. Kramer
3
5
8
Hello Dolly!
Louis Armstrong
13
1
12
9
People
Barbara Streisand
1
17
10
I Get Around
Beach Boys
1
JUNE 20, 1964
LAST
THIS
WEEK
WEEK
TITLE
ARTIST
T10
#1
1
1
Chapel Of Love
Dixie Cups
5
3
2
2
A World Without Love
Peter & Gorden
5
10
3
I Get Around
Beach Boys
2
3
4
Love Me With All Your Heart
Ray Charles
5
16
5
My Boy Lollipop
Millie Small
1
6
6
Walk On By
Dionne Warwick
4
4
7
Love Me Do
Beatles
6
1
9
8
People
Barbara Streisand
2
20
9
Don't Let The Sun Catch You Crying
Gary & The Peacemakers
1
11
10
Diane
Bachelors
1
JUNE 27, 1964
LAST
THIS
WEEK
WEEK
TITLE
ARTIST
T10
#1
2
1
A World Without Love
Peter & Gorden
6
1
3
2
I Get Around
Beach Boys
3
1
3
Chapel Of Love
Dixie Cups
6
3
5
4
My Boy Lollipop
Millie Small
2
8
5
People
Barbara Streisand
3
15
6
Memphis
Johnny Rivers
1
9
7
Don't Let The Sun Catch You Crying
Gary & The Peacemakers
2
4
8
Love Me With All Your Heart
Ray Charles
6
16
9
Bad To Me
Billy J. Kramer
1
6
10
Walk On By
Dionne Warwick
5
JULY 4, 1964
LAST
THIS
WEEK
WEEK
TITLE
ARTIST
T10
#1
2
1
I Get Around
Beach Boys
4
1
4
2
My Boy Lollipop
Millie Small
3
6
3
Memphis
Johnny Rivers
2
7
4
Don't Let The Sun Catch You Crying
Gary & The Peacemakers
3
5
5
People
Barbara Streisand
4
1
6
A World Without Love
Peter & Gorden
7
1
3
7
Chapel Of Love
Dixie Cups
7
3
18
8
Rag Doll
4 Seasons
1
9
9
Bad To Me
Billy J. Kramer
2
16
10
Can't You See That She's Mine
Dave Clark Five
1
JULY 11, 1964
LAST
THIS
WEEK
WEEK
TITLE
ARTIST
T10
#1
1
1
I Get Around
Beach Boys
5
2
3
2
Memphis
Johnny Rivers
3
8
3
Rag Doll
4 Seasons
2
4
4
Don't Let The Sun Catch You Crying
Gary & The Peacemakers
4
10
5
Can't You See That She's Mine
Dave Clark Five
2
2
6
My Boy Lollipop
Millie Small
4
5
7
People
Barbara Streisand
5
6
8
A World Without Love
Peter & Gorden
8
1
12
9
The Girl From Ipanema
Stan Getz & Astrud Gilberto
1
11
10
No Paticular Place To Go
Chuck Berry
1
JULY 18, 1964
LAST
THIS
WEEK
WEEK
TITLE
ARTIST
T10
#1
3
1
Rag Doll
4 Seasons
3
1
2
2
Memphis
Johnny Rivers
4
1
3
I Get Around
Beach Boys
6
2
5
4
Can't You See That She's Mine
Dave Clark Five
3
9
5
The Girl From Ipanema
Stan Getz & Astrud Gilberto
2
12
6
The Little Old Lady (From Pasadena)
Jan & Dean
1
4
7
Don't Let The Sun Catch You Crying
Gary & The Peacemakers
5
13
8
Dang Me
Roger Miller
1
6
9
My Boy Lollipop
Millie Small
5
18
10
Keep On Pushing
Impressions
1
JULY 25, 1964
LAST
THIS
WEEK
WEEK
TITLE
ARTIST
T10
#1
1
1
Rag Doll
4 Seasons
4
2
21
2
A Hard Day's Night
Beatles
1
3
3
I Get Around
Beach Boys
7
2
2
4
Memphis
Johnny Rivers
5
5
5
The Girl From Ipanema
Stan Getz & Astrud Gilberto
3
6
6
The Little Old Lady (From Pasadena)
Jan & Dean
2
4
7
Can't You See That She's Mine
Dave Clark Five
4
8
8
Dang Me
Roger Miller
2
12
9
Wishin' And Hopin'
Dusty Springfield
1
10
10
Keep On Pushing
Impressions
2
AUGUST 1, 1964
LAST
THIS
WEEK
WEEK
TITLE
ARTIST
T10
#1
2
1
A Hard Day's Night
Beatles
2
1
1
2
Rag Doll
4 Seasons
5
2
6
3
The Little Old Lady (From Pasadena)
Jan & Dean
3
11
4
Everybody Loves Somebody
Dean Martin
1
18
5
Where Did Our Love Go
Surpremes
1
9
6
Wishin' And Hopin'
Dusty Springfield
2
8
7
Dang Me
Roger Miller
3
3
8
I Get Around
Beach Boys
8
2
4
9
Memphis
Johnny Rivers
6
5
10
The Girl From Ipanema
Stan Getz & Astrud Gilberto
4
AUGUST 8, 1964
LAST
THIS
WEEK
WEEK
TITLE
ARTIST
T10
#1
1
1
A Hard Day's Night
Beatles
3
2
4
2
Everybody Loves Somebody
Dean Martin
2
5
3
Where Did Our Love Go
Surpremes
2
3
4
The Little Old Lady (From Pasadena)
Jan & Dean
4
2
5
Rag Doll
4 Seasons
6
2
6
6
Wishin' And Hopin'
Dusty Springfield
3
11
7
Under The Boardwalk
Drifters
1
7
8
Dang Me
Roger Miller
4
15
9
I Wanna Love Him So Bad
Jelly Beans
1
8
10
I Get Around
Beach Boys
9
2
AUGUST 15, 1964
LAST
THIS
WEEK
WEEK
TITLE
ARTIST
T10
#1
2
1
Everybody Loves Somebody
Dean Martin
3
1
3
2
Where Did Our Love Go
Surpremes
3
1
3
A Hard Day's Night
Beatles
4
2
5
4
Rag Doll
4 Seasons
7
2
7
5
Under The Boardwalk
Drifters
2
6
6
Wishin' And Hopin'
Dusty Springfield
4
4
7
The Little Old Lady (From Pasadena)
Jan & Dean
5
13
8
C'Mon And Swim
Bobby Freeman
1
9
9
I Wanna Love Him So Bad
Jelly Beans
2
60
10
The House Of The Rising Sun
Animals
1
AUGUST 22, 1964
LAST
THIS
WEEK
WEEK
TITLE
ARTIST
T10
#1
2
1
Where Did Our Love Go
Surpremes
4
1
1
2
Everybody Loves Somebody
Dean Martin
4
1
3
3
A Hard Day's Night
Beatles
5
2
5
4
Under The Boardwalk
Drifters
3
10
5
The House Of The Rising Sun
Animals
2
8
6
C'Mon And Swim
Bobby Freeman
2
14
7
Because
Dave Clark Five
1
13
8
Walk Don't Run' 64 (I)
Ventures
1
6
9
Wishin' And Hopin'
Dusty Springfield
5
16
10
How Do You Do It
Gary & The Peacemakers
1
AUGUST 29, 1964
LAST
THIS
WEEK
WEEK
TITLE
ARTIST
T10
#1
1
1
Where Did Our Love Go
Surpremes
5
2
5
2
The House Of The Rising Sun
Animals
3
2
3
Everybody Loves Somebody
Dean Martin
5
1
3
4
A Hard Day's Night
Beatles
6
2
6
5
C'Mon And Swim
Bobby Freeman
3
4
6
Under The Boardwalk
Drifters
4
7
7
Because
Dave Clark Five
2
8
8
Walk Don't Run' 64 (I)
Ventures
2
23
9
Bread And Butter
Newbeats
1
10
10
How Do You Do It
Gary & The Peacemakers
2
SEPTEMBER 5, 1964
LAST
THIS
WEEK
WEEK
TITLE
ARTIST
T10
#1
2
1
The House Of The Rising Sun
Animals
4
1
1
2
Where Did Our Love Go
Surpremes
6
2
3
3
Everybody Loves Somebody
Dean Martin
6
1
7
4
Because
Dave Clark Five
3
5
5
C'Mon And Swim
Bobby Freeman
4
9
6
Bread And Butter
Newbeats
2
6
7
Under The Boardwalk
Drifters
5
4
8
A Hard Day's Night
Beatles
7
2
10
9
How Do You Do It
Gary & The Peacemakers
3
15
10
G.T.O.
Ronnie & The Daytonas
1
SEPTEMBER 12, 1964
LAST
THIS
WEEK
WEEK
TITLE
ARTIST
T10
#1
1
1
The House Of The Rising Sun
Animals
5
2
2
2
Where Did Our Love Go
Surpremes
7
2
4
3
Because
Dave Clark Five
4
3
4
Everybody Loves Somebody
Dean Martin
7
1
6
5
Bread And Butter
Newbeats
3
5
6
C'Mon And Swim
Bobby Freeman
5
10
7
G.T.O.
Ronnie & The Daytonas
2
8
8
A Hard Day's Night
Beatles
8
2
13
9
Remember (Walkin' In The Sand)
Shangralas
1
27
10
Oh, Pretty Woman
Roy Orbison
1
SEPTEMBER 19, 1964
LAST
THIS
WEEK
WEEK
TITLE
ARTIST
T10
#1
1
1
The House Of The Rising Sun
Animals
6
3
5
2
Bread And Butter
Newbeats
4
2
3
Where Did Our Love Go
Surpremes
8
2
10
4
Oh, Pretty Woman
Roy Orbison
2
7
5
G.T.O.
Ronnie & The Daytonas
3
4
6
Everybody Loves Somebody
Dean Martin
8
1
9
7
Remember (Walkin' In The Sand)
Shangralas
2
3
8
Because
Dave Clark Five
5
31
9
Do Wah Diddy Diddy
Manfred Mann
1
25
10
Dancing In The Street
Martha & The Vandellas
1
SEPTEMBER 26, 1964
LAST
THIS
WEEK
WEEK
TITLE
ARTIST
T10
#1
4
1
Oh, Pretty Woman
Roy Orbison
3
1
2
2
Bread And Butter
Newbeats
5
1
3
The House Of The Rising Sun
Animals
7
3
5
4
G.T.O.
Ronnie & The Daytonas
4
7
5
Remember (Walkin' In The Sand)
Shangralas
3
9
6
Do Wah Diddy Diddy
Manfred Mann
2
3
7
Where Did Our Love Go
Surpremes
9
2
10
8
Dancing In The Street
Martha & The Vandellas
2
16
9
It Hurts To Be In Love
Gene Pitney
1
18
10
Save It For Me
4 Seasons
1
OCTOBER 3, 1964
LAST
THIS
WEEK
WEEK
TITLE
ARTIST
T10
#1
1
1
Oh, Pretty Woman
Roy Orbison
4
2
6
2
Do Wah Diddy Diddy
Manfred Mann
3
2
3
Bread And Butter
Newbeats
6
8
4
Dancing In The Street
Martha & The Vandellas
3
5
5
Remember (Walkin' In The Sand)
Shangralas
4
4
6
G.T.O.
Ronnie & The Daytonas
5
9
7
It Hurts To Be In Love
Gene Pitney
2
3
8
The House Of The Rising Sun
Animals
8
3
14
9
Will Sing In The Sunshine
Gale Garnett
1
10
10
Save It For Me
4 Seasons
2
OCTOBER 10, 1964
LAST
THIS
WEEK
WEEK
TITLE
ARTIST
T10
#1
1
1
Oh, Pretty Woman
Roy Orbison
5
3
2
2
Do Wah Diddy Diddy
Manfred Mann
4
4
3
Dancing In The Street
Martha & The Vandellas
4
3
4
Bread And Butter
Newbeats
7
5
5
Remember (Walkin' In The Sand)
Shangralas
5
9
6
Will Sing In The Sunshine
Gale Garnett
2
7
7
It Hurts To Be In Love
Gene Pitney
3
6
8
G.T.O.
Ronnie & The Daytonas
6
14
9
Last Kiss
J. Frank Wilson
1
12
10
A Summer Song
Chad & Jermey
1
OCTOBER 17, 1964
LAST
THIS
WEEK
WEEK
TITLE
ARTIST
T10
#1
2
1
Do Wah Diddy Diddy
Manfred Mann
5
1
3
2
Dancing In The Street
Martha & The Vandellas
5
1
3
Oh, Pretty Woman
Roy Orbison
6
3
6
4
Will Sing In The Sunshine
Gale Garnett
3
9
5
Last Kiss
J. Frank Wilson
2
5
6
Remember (Walkin' In The Sand)
Shangralas
6
10
7
A Summer Song
Chad & Jermey
2
7
8
It Hurts To Be In Love
Gene Pitney
4
11
9
When I Grow Up To Be A Man
Beach Boys
1
14
10
Let It Be Me
Berty Everett & Jerry Butler
1
OCTOBER 24, 1964
LAST
THIS
WEEK
WEEK
TITLE
ARTIST
T10
#1
1
1
Do Wah Diddy Diddy
Manfred Mann
6
2
2
2
Dancing In The Street
Martha & The Vandellas
6
5
3
Last Kiss
J. Frank Wilson
3
4
4
Will Sing In The Sunshine
Gale Garnett
4
3
5
Oh, Pretty Woman
Roy Orbison
7
3
12
6
Baby Love
Surpremes
1
7
7
A Summer Song
Chad & Jermey
3
10
8
Let It Be Me
Berty Everett & Jerry Butler
2
9
9
When I Grow Up To Be A Man
Beach Boys
2
20
10
Have I The Right?
Honeycombs
1
OCTOBER 31, 1964
LAST
THIS
WEEK
WEEK
TITLE
ARTIST
T10
#1
6
1
Baby Love
Surpremes
2
1
1
2
Do Wah Diddy Diddy
Manfred Mann
7
2
3
3
Last Kiss
J. Frank Wilson
4
4
4
Will Sing In The Sunshine
Gale Garnett
5
2
5
Dancing In The Street
Martha & The Vandellas
7
8
6
Let It Be Me
Berty Everett & Jerry Butler
3
10
7
Have I The Right?
Honeycombs
2
5
8
Oh, Pretty Woman
Roy Orbison
8
3
11
9
Little Honda
Hondells
1
12
10
Chug-A-Lug
Rober Miller
1
NOVEMBER 7, 1964
LAST
THIS
WEEK
WEEK
TITLE
ARTIST
T10
#1
1
1
Baby Love
Surpremes
3
2
3
2
Last Kiss
J. Frank Wilson
5
2
3
Do Wah Diddy Diddy
Manfred Mann
8
2
14
4
Leader Of The Pack
Shangri-Las
1
6
5
Let It Be Me
Berty Everett & Jerry Butler
4
7
6
Have I The Right?
Honeycombs
3
11
7
Come A Little Bit Closer
Jay & The Americans
1
12
8
The Door Is Still Open To My Heart
Dean Martin
1
10
9
Chug-A-Lug
Rober Miller
2
4
10
Will Sing In The Sunshine
Gale Garnett
6
NOVEMBER 14, 1964
LAST
THIS
WEEK
WEEK
TITLE
ARTIST
T10
#1
1
1
Baby Love
Surpremes
4
3
4
2
Leader Of The Pack
Shangri-Las
2
2
3
Last Kiss
J. Frank Wilson
6
7
4
Come A Little Bit Closer
Jay & The Americans
2
6
5
Have I The Right?
Honeycombs
4
8
6
The Door Is Still Open To My Heart
Dean Martin
2
3
7
Do Wah Diddy Diddy
Manfred Mann
9
2
5
8
Let It Be Me
Berty Everett & Jerry Butler
5
22
9
She's Not There
Zombies
1
28
10
Ringo
Lorne Greene
1
NOVEMBER 21, 1964
LAST
THIS
WEEK
WEEK
TITLE
ARTIST
T10
#1
1
1
Baby Love
Surpremes
5
4
2
2
Leader Of The Pack
Shangri-Las
3
4
3
Come A Little Bit Closer
Jay & The Americans
3
3
4
Last Kiss
J. Frank Wilson
7
9
5
She's Not There
Zombies
2
10
6
Ringo
Lorne Greene
2
5
7
Have I The Right?
Honeycombs
5
13
8
You Really Got Me
Kinks
1
6
9
The Door Is Still Open To My Heart
Dean Martin
3
18
10
Time Is On My Side
Rolling Stones
1
NOVEMBER 28, 1964
LAST
THIS
WEEK
WEEK
TITLE
ARTIST
T10
#1
2
1
Leader Of The Pack
Shangri-Las
4
1
1
2
Baby Love
Surpremes
6
4
3
3
Come A Little Bit Closer
Jay & The Americans
4
5
4
She's Not There
Zombies
3
6
5
Ringo
Lorne Greene
3
11
6
Mr. Lonely
Bobby Vinton
1
8
7
You Really Got Me
Kinks
2
10
8
Time Is On My Side
Rolling Stones
2
4
9
Last Kiss
J. Frank Wilson
8
19
10
Mountain Of Love
Johnny Rivers
1
DECEMBER 5, 1964
LAST
THIS
WEEK
WEEK
TITLE
ARTIST
T10
#1
5
1
Ringo
Lorne Greene
4
1
6
2
Mr. Lonely
Bobby Vinton
2
1
3
Leader Of The Pack
Shangri-Las
5
1
4
4
She's Not There
Zombies
4
2
5
Baby Love
Surpremes
7
4
8
6
Time Is On My Side
Rolling Stones
3
7
7
You Really Got Me
Kinks
3
13
8
Come See About Me
Surpremes
1
10
9
Mountain Of Love
Johnny Rivers
2
11
10
I'm Gonna Be Strong
Gene Pitney
1
DECEMBER 12, 1964
LAST
THIS
WEEK
WEEK
TITLE
ARTIST
T10
#1
2
1
Mr. Lonely
Bobby Vinton
3
1
4
2
She's Not There
Zombies
5
1
3
Ringo
Lorne Greene
5
1
8
4
Come See About Me
Surpremes
2
22
5
I Feel Fine
Beatles
1
6
6
Time Is On My Side
Rolling Stones
4
7
7
You Really Got Me
Kinks
4
5
8
Baby Love
Surpremes
8
4
10
9
I'm Gonna Be Strong
Gene Pitney
2
13
10
Dance, Dance, Dance
Beach Boys
1
DECEMBER 19, 1964
LAST
THIS
WEEK
WEEK
TITLE
ARTIST
T10
#1
4
1
Come See About Me
Surpremes
3
1
5
2
I Feel Fine
Beatles
2
1
3
Mr. Lonely
Bobby Vinton
4
1
2
4
She's Not There
Zombies
6
3
5
Ringo
Lorne Greene
6
1
6
6
Time Is On My Side
Rolling Stones
5
14
7
Goin' Out Of My Head
Little Anthony & The Imperials
1
10
8
Dance, Dance, Dance
Beach Boys
2
9
9
I'm Gonna Be Strong
Gene Pitney
3
7
10
You Really Got Me
Kinks
5
DECEMBER 26, 1964
LAST
THIS
WEEK
WEEK
TITLE
ARTIST
T10
#1
2
1
I Feel Fine
Beatles
3
1
1
2
Come See About Me
Surpremes
4
1
3
3
Mr. Lonely
Bobby Vinton
5
1
14
4
She's A Woman
Beatles
1
4
5
She's Not There
Zombies
7
7
6
Goin' Out Of My Head
Little Anthony & The Imperials
2
5
7
Ringo
Lorne Greene
7
1
8
8
Dance, Dance, Dance
Beach Boys
3
12
9
The Jerk
Larks
1
6
10
Time Is On My Side
Rolling Stones
6
Go back to the top 100 songs of all time home page.
Back to Top…