Brenda Lee's Early Childhood and Career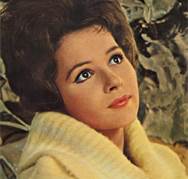 The Brenda Lee Greatest hits is a summary of her charted singles and career. She was born Brenda Mae Tarpley on December 11, 1944, in Atlanta, Georgia. When she was two years old, she could whistle the melody of songs she heard on the radio. When she was six, she won a local singing contest sponsored by local elementary schools.
Her big break came in 1955, when she went to see Red Foley on his ABC-TV Program Ozark Jubilee in Augusta, Georgia, instead of going to appear on a Swainsboro radio station and earn $30. The DJ persuaded Red Foley to hear her sing before the show. He was so impressed that she sang with him "Jambalaya" on stage that night unrehearsed. She was a huge success.
On July 30th, she signed a contract with Decca Records and recorded her first single "Jambalaya" and "I'm Gonna Lasso Santa Clause" and both did not chart on the country charts. In 1957, she released a single called "One Step At A Time" which made it to #15 on the country charts and #43 on the Hot 100 Pop chart. Producers thought that she would do better on the Pop charts and she would not record any country singles until 1969. She recorded a total of 34 singles on the Country chart, with eight peaking in the top ten.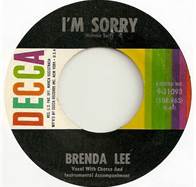 Her first pop top ten hit was "Sweet Nothin's" and was a #4 hit on the Hot 100 chart in 1959. She followed that single with her first #1 song "I'm Sorry" which topped the charts for 3 weeks in 1960. Brenda Lee recorded the song early in 1960 but her label, Decca Records, held it from release for several months out of concern that a 15-year-old girl was not mature enough to sing about unrequited love. When the song finally was released, it was considered to be the flip side of the more uptempo "That's All You Gotta Do." Although it was never released to country radio as a single, "I'm Sorry" would in time become accepted by country fans as a standard of the genre.
In 1958, when she was thirteen years old, was approached by her producer to record a song written by Johnny Marks titled "Rockin' Around the Christmas Tree". That year it sold only 5,000 copies, and did not do much better the following year. However, after her first #1 song, that Christmas season the song was a hit and now has sold over 5 million copies. This song by far is her biggest selling single of her career.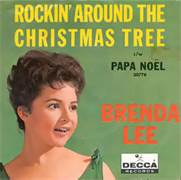 Lee's total of nine consecutive top 10 Billboard Hot 100 hits from "That's All You Gotta Do" in 1960 through "All Alone Am I" in 1962 set a record for a female solo artist that was not equaled (and later broken) until 1986 by Madonna.
Brenda Lee's Top Ten and #1 Songs
All told, Brenda Lee recorded 52 hits that made Billboard's Hot 100 Pop chart. She also recorded 34 Country and Western Hits. On the Pop charts she had: 2 #1's, 12 Top 10, 19 Top 20, and 29 Top 40 hits. She also had 2 albums in the Top 10. She also cut records in four other languages earning her additional accolades.
Billboard ranks Brenda Lee as the #4 artist from 1960-1969 and #38 of all-time from 1955-2010. She was voted into the Rock & Roll Hall of Fame in 2002. She was also voted into the Country Music Hall of Fame, the Rockabilly Hall of Fame, and the Hit Parade Hall of Fame.
Here is a list of all her top 10 songs including the #1's.
The songs will be listed in chronological order with title, peak date, peak position #, weeks at peak position #1, #2, and #3 are in (), #1 songs are in bold.
Hot 100
Sweet Nothin's – April 18, 1960 #4
That's All You Gotta Do – July 4, 1960 #6
I'm Sorry – July 18, 1960 #1 (3)
I Want To Be Wanted – October 24, 1960 #1 (1)
Emotions – February 13, 1961 #7
You Can Depend On Me – May 8, 1961 #6
Dum Dum – July 31, 1961 #4
Fool #1 – November 13, 1961 #3 (2)
Break It To Me Gently – March 3, 1962 #4
Everybody Loves Me But You – May 26, 1962 #6
All Alone Am I – November 10, 1962 #3 (2)
Losing You – May 25, 1963 #6
Adult Contemporary
Here is a list of all of Brenda Lee's top-ten hits on this chart:
Everybody Loves Me But You – April 14, 1962 #2 (1)
Heart In Hand – July 7962 #4
All Alone Am I – November 10, 1962 #1 (5)
Losing You – April 20, 1963 #2 (3)
My Whole World Is Falling Down – July 27, 1963 #8
I Wonder – July 27, 1963 #9
The Grass Is Greener – October 5, 1963 #7
As Usual -December 21, 1963 #5
Think – March 164 #4
Alone With You – June 20, 1964 #8
When You Loved Me – August 15, 1964 #8
Truly, Truly, True – April 10, 1965 #9
Too Many Rivers – June 5, 1965 #2 (2)
Rusty Bells – October 2, 1965 #3 (1)
Johnny One Time – January 11, 1969 #3 (1)
Her last recorded Top 40 hit was "Ride, Ride, Ride" #37, in 1967. And her last song to chart on Billboard's Hot 100 Pop Chart was "Nobody Wins" #70, in 1973. Her last Top 20 hit was "Coming On Strong", #11 in 1966.
You can hear her top #1 song "I'm Sorry" and "Rockin' Around The Christmas Tree" below.
I'm Sorry#1 Three Weeks

Shop Brenda Lee Greatest Hits
You now can purchase an album with all her top 10 hits and a vast majority of her top 20's as well, including her Christmas hit "Rockin' Around The Christmas Tree". This album "Definitive Collection" has 28 tracks of all her best recordings. All are original recordings accept for one that is a reissue.
You can shop Brenda Lee Greatest Hits
by clicking on the link. You will be taken to Amazon Try Prime Digital Music page where you can download any of Brenda's songs for a small fee.
As an Amazon associate I earn from qualified purchases.
Go back to the top 100 home page.
Back to Top