Andy Williams Greatest Hits
This is a review of Andy Williams Greatest Hits as a solo artist. He is known for his own TV show "The Andy Williams Show" a variety show, from 1962 to 1971, and other numerous television specials. This is his story of his solo singing career. He has recorded seventeen Gold and three Platinum-certified albums.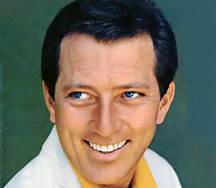 He was born Howard Andrew "Andy" Williams on December 3, 1927 in Wall Lake, Iowa and died on September 25, 2012 at the age of 84. He was the son of Jay Emerson and Florence (Nee Finley) Williams. He had three older brothers named Bob, Don and Dick. He attended Western Hills High School in Cincinnati and finished high school at University High School in West Los Angeles when his family moved to California.
Early Life and Career
Andy's first performance was in a children's choir at the local Presbyterian church. He and his brothers formed "The Williams Brothers Quartet" in late 1938. They performed on the radio in the Midwest, first at WHO in Des Moines, Iowa, then at WLS in Chicago, and WLW in Cincinnati. They all appeared in four musical films: "Janie" in 1944, "Kansas City Kitty" in 1944, "Something in the Wind" in 1947, and "Ladies' Man" in 1947.
The Williams Brothers were signed by MGM to appear in "Anchors Aweigh" and "Ziegfield Follies" in 1945, but before they went before the cameras, the oldest brother Bob was drafted into military service and the group's contract was canceled. Kay Thompson, a former radio star who was now head of the vocal department at MGM, had a nose for talent and she hired the remaining three Williams Brothers to sing in her large choir on many soundtracks for such MGM films as "The Harvey Girls" in 1946. When Bob was done with his military service, Kay hired all four of them to sing on the soundtrack to "Good News" in 1947.
By then, Kay Thompson was tired of working behind the scenes at MGM so, with the four Williams boys as her backup singers and dancers, she formed a nightclub act called Kay Thompson and the Williams Brothers. They made their debut in Las Vegas in 1947 and became an overnight sensation. Within a year, they were the highest paid nightclub act in the world, breaking records wherever they appeared.
The act broke up in 1949 but reunited for another hugely successful tour from the fall of 1951 through the summer of 1953. After that the four brothers went their separate ways. A complete itinerary of both tours is listed on the Kay Thompson biography website. Kay Thompson helped Andy emerge as a solo artist and wrote many of his songs.
Andy's Solo Singing Career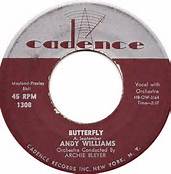 His solo career began in 1953 when he recorded six singles for the RCA Label. None of these recordings made the charts and Andy was dropped from RCA. In 1954, Andy signed a contract with Cadence Records. Andy's first charted single under the Cadence Label was "Walk Hand In Hand" #54 in 1956 and stayed on the charts for eleven weeks. His next single was his first top ten hit "Canadian Sunset" #7 in August, 1956. In 1957, Andy released his one only #1 hit "Butterfly" and stayed on top for three weeks.
In 1958, Andy continued his success with two more top ten hits "Are you Sincere" reaching #3, and "Lonely Street" at #5. In 1959, he followed with one more top ten hit "The Village Of St. Bernadette" #7. He also recorded the #11 hit single "Hawaiian Wedding Song" in 1958, one of his biggest requested songs.
Andy stopped having top 40 hits and the Cadence Records dropped him from their contract. Andy then signed with Columbia Records. His first top ten hit under the Columbia Label was "Can't Get Used To Losing You" #2 in 1963.
Between 1963 and 1971, Andy Williams had 11 top 40 hits and among them were; "A Fool Never Learns" #13, Days Of Wine And Roses" #26, "Hopeless" #13, "On The Street Where You Live" #28, "…And Roses And Roses" #36, Ain't It True" #40, and "Music To Watch Girls By" #34 in 1967. He also recorded some Christmas albums but his biggest song was "It's The Most Wonderful Time of the Year" hitting number 1 on the Billboard Christmas chart for two consecutive years. This song is #4 on Billboards greatest Christmas songs of all-time.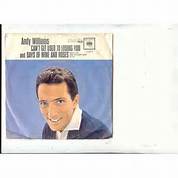 His last top ten single on the Hot 100 is "(Where Do I Begin) Love Story" #9 in 1971. Andy's last song to chart is "Tell It Like It Is" #72 in 1976. The song stayed on the charts for six weeks.
All told, Andy Williams had 1 #1, 8 Top 10, 13 Top 20, and 27 Top 40 hit songs. He also had 12 top ten albums. Billboard ranks Andy Williams as the #28 artist from 1955-1959, the #36 artist from 1960-1969 and the #56 artist of all time from 1955-2010. He is ranked as the #16 artist on the Adult Contemporary chart from 1961-2001. He had a total of 44 charted singles on the Hot 100 chart and 9 hitting the "Bubbling Under" the Hot 100 charts, for a total of 53 singles. Andy Williams had a total of 44 singles to chart on the Adult Contemporary charts.
Top Ten & #1 Songs
This is a complete listing of Andy Williams top ten and number one songs from the Hot 100 and Adult Contemporary charts. The list will comprise the title, date of debut or at #1 the peak date, peak position #, and the number of weeks at #1, #2, & #3 in () Hot 100 only. The songs will be listed on chronological order with the number one song titles in bold.
Hot 100
Canadian Sunset – August 11, 1956 #7
Butterfly – March 30, 1957 #1 (3)
I Like You Kind Of Love – May 20, 1957 #8
Are you Sincere – February 17, 1958 #3 (1)
Lonely Street – September 7, 1959 #5
The Village Of St. Bernadette – December 14, 1959 #7
Can't Get Used To Losing You – March 2, 1963 #2 (4)
(Where Do I Begin) Love Story – February 6, 1971 #9
Adult Contemporary Chart
Stranger On The Shore – June 23, 1962 #9
Can't Get Used To Losing You – April 13, 1963 #1 (4)
Days Of Wine And Roses – April 13, 1963 #9
Hopeless – June 29, 1963 #3
A Fool Never Learns – January 25, 1964 #4
On The Street Where You Live – April 18, 1964 #3
Dear Heart – November 28, 1964 #2 (1)
…And Roses And Roses – April 3, 1965 #4
In The Arms Of Love – October 1, 1966 #1 (2)
Music To Watch Girls By – April 1, 1967 #2 (1)
More And More – July 8, 1967 #2 (4)
Holly – October 28, 1967 #4
Sweet Memories – May 25, 1968 #4
Happy Heart – May 24, 1969 #1 (2)
A Woman's Way – November 1, 1969 #4
One Day Of Your Life – June 6, 1970 #2 (2)
Home Lovin' Man – October 24, 1970 #10
(Where Do I Begin) Love Story – March 20, 1971 #1 (4)
Love Theme From "The Godfather" – April 8, 1972 #7
Butterfly – Original #1 (Andy's Only #1 Song On Hot 100)

If you are a big fan of Andy Williams's the albums below contain his only #1 song and his top hits and the Christmas album contains his best Christmas song.
Shop Andy Williams Greatest Hits
You can shop for individual Andy Williams Hits
by clicking on the link. You will be taken to Amazon Try Prime Digital Music where you can download any of Andy's individual song titles you may be missing from your collection.
As an Amazon associate I earn from qualified purchases.
The Andy Williams Christmas Album

16 Biggest Hits
Go back to the top 100 songs of all time home page.