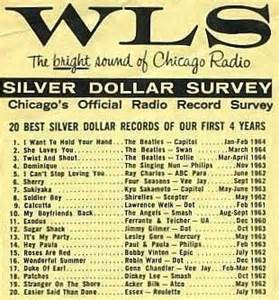 The published music charts are a way of showing how popular a song was in it's time. When I was growing up, I listened faithfully each week to the WLS Silver Dollar Survey being glued to my radio waiting for them to reveal the #1 song of the week every Friday. They stopped producing the surveys in 1990, with the last one on May 5th. The number one song on that date was "Nothing Compares To U" by Sinead O'Connor. The songs on the charts on my website are complied by Billboard Magazine. The exceptions are noted. The "Music Chart" tab was created so visitors can easily access any chart of interest at a single click of the mouse within the tab and go from chart to chart with ease. The music charts consist of the top 100 songs ranked by peak position according to Billboard. Some charts will have more than 100 songs ranked depending upon what's being charted. The charts will be broken down into the following sub-tabs within Music Charts tab:
Top 100 By Decade (1890-2010)
Top 100 Instrumentals (1890-2010)
Top 100 Instrumentals by Decade (1910-1979)
Top 1000 Instrumentals All-Time (1890-2011)
Top 200 Country & Western (1944-1988)
Top 200 #2 Hits (1955-2010)
Top 250 #3 Hits (1955-2010)
Top 10 By Week 1955-1979 (1955-56 so far)
One Hit Wonders (1955-2010)
Top 250 All-Time (1890-2010)
#1 Songs (1890-1954)
#1 Songs (1955-2010)
Top 150 Adult Contemporary Hits (1961-2001)
If you are a huge fan of popular music and how the songs ranked over the years, you will find some very interesting information. I know you will find this information very helpful.
Go back to the top 100 songs home page.