Eminem Overview
Eminem greatest hits are a review of his career in music and film. H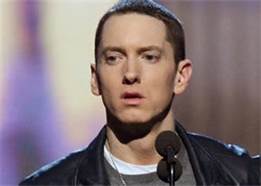 e was born Marshall Bruce Mathers III on October 17, 1972, in St. Joseph, Missouri. His mother was only fifteen when she gave birth to Marshall. His stage name is Eminem. He is a rapper, record producer, songwriter, and actor. His father abandoned the family when he was 18 months old and the family settled in a suburb of Detroit, Michigan in Warren.
Music Career
As a child, he developed an interest in storytelling and had a desire to become a comic book artist. When Mathers was nine years old, his maternal uncle Ronald "Ronnie" Polkinghorn introduced him to the genre after giving him a copy of Ice-T's single "Reckless". After obtaining a copy of the Beastie Boys album "Licensed to Ill" as a teenager, Mathers became interested in music, performing amateur raps at age 14 under the pseudonym "M&M".
In 1992, he made his first music video appearance in Clamptown's "Do-Da-Dipity". Mathers signed with FBT Productions; however he was working in a restaurant as a dishwasher and cook. In 1996, he released his first album called "Infinite" and none of the songs charted and it only sold about 1,000 copies as it was not well received by the music industry.
After a few years of no success, he signed with Aftermath Entertainment/Interscope Records in 1998. In 1999, Eminem released his first studio album titled "The Slim Shady LP" which went on to be certified triple platinum and sold over 1 million copies. The album's first single "My Name Is" was his first Hot 100 charted single and reached #36, in 1999. The album also produced his first top ten single "The Real Slim Shady" and reached #4 on the Hot 100 chart in 2000.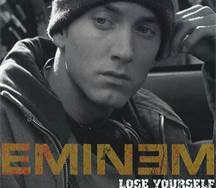 His next album "The Marshall Mathers LP" was released in May, 2000 and when on to sell over 1.76 million copies and is certified ten times platinum by the RIAA. His third album "The Eminem Show" was released in 2002 and was another hit as it sold 1.332 million copies. This album also produced his first #1 hit single on the Hot 100 titled "Lose Yourself" which was number 1 for twelve weeks. This is his most successful single of his career.
He has sold over 100 million albums world-wide to date which makes him one of the best-selling music artists in the world. He also has 13 number one singles world-wide.
All told, Eminem has 4 #1's, 13 top 10, 20 top 20, and 28 top 40 hits, on the Hot 100 chart. He also has 7 top ten albums. He has a total of 40 singles to make the Hot 100 chart. This is based on information through 2011. He will be releasing another album in 2013 which could add to his total. His last top ten hit is "Forever" #8 in 2009. His last charted Hot 100 single is "That's All She Wrote" #18 in 2010.
Billboard has ranked Eminem as the #2 artist from 2000-2010, and #44 of all-time from 1955-2010. He also has won thirteen Grammy awards for his music in his career.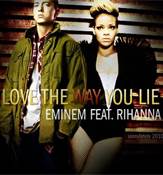 Films
The following is a complete list of films that Eminem has appeared in:
2000 – Da Hip Hop Witch "Himself"
2000 – Up In Smoke Tour "Himself"
2000 – The Slim Shady Show "Various parts"
2001 – The Wash "Chris"
2002 – 8 Mile "Jimmy B-Rabbit Smith Jr."
2003 – 50 Cent: The New Breed "Himself"
2004 – Crank Yankers  "Billy Fletcher"
2005 – 50 Cent: Bulletproof "Detective McVicar"
2009 – Before I Self Destruct "Gangstarr"
2009 – Funny People "Himself"
2010 – Entourage "Himself"
2012 – Something From Nothing: The Art of Rap "Himself"
2012 – How To Make Money Selling Drugs "Himself"
2013 – Detroit Rubber "Himself"
Hot 100 #1 & Top Ten Hits
The number one hits are in bold number of weeks at #1, #2 & #3 in ()
The Real Slim Shady – May 6, 2000 #4
Without Me – May 11, 2002 #2 (5)
Cleanin' Out My Closet – August 3, 2002 #4
Lose Yourself – November 19, 2002 #1 (12)
Just Loose It – October 9, 2004 #6
When I'm Gone – November 26, 2005 #8
Shake That – December 24, 2005 #6
Smack That – October 7, 2006 #2 (5)
Crack A Bottle – February 1, 2009 #1 (1)
We Made You – May 2, 2009 #9
Fever – October 3, 2009 #8
Not Afraid – May 22, 2010 #1 (1)
Love The Way You Lie – July 31, 2010 #1 (7)
The Monster – December 18, 2013 #1 (5)
() Number of weeks at the #1 position.
All told, Eminem had 5 #1's, 14 Top 10, 21 Top 20, 29 Top 40 hits. He also has 7 top ten albums. He is ranked as the #2 artist from 2000-2009, and the #44 artist of all-time from 1955-2010.
As an Amazon associate I earn from qualified purchases.
Shop Eminem Greatest Hits
If you like Eminem here's an album with 4 top ten hits and his all-time number 1 song Curtain Call
, it also has has 16 other tracks of his hits. His other album  Recovery
you get two more #1's and 5 other Hot 100 hits. This album also has 17 tracks. With these two albums, you get most of his top hits.
You can shop for individual Eminem Greatest Hits
by clicking on the link. You will be taken to the Amazon Try Prime Digital Music page where you can download individual Eminem songs to your collection for a small fee.
Go back to the Top 100 Songs Home page.