A Way To Preserve Vinyl Records & Cassettes By Recording Them To CD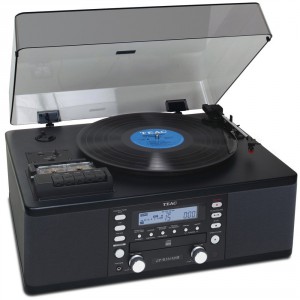 Do you own a large collection of vinyl records in LP or 45 RPM and Cassette tape formats? If you are an avid collector like I am, you probably have a huge collection of 45's, cassettes, LP's and maybe even some 78's and cassettes stored somewhere in your home, basement or attic. Would you be interested in converting these oldies into today's modern technology? If the answer is yes, this is where the Teac LP-R550USB Turntable with Cassette CD Recorder comes to your rescue.
The recording of vinyl records to CD will be able to provide you with this new technology so you can not only save your records, but, also hear them on CD or convert them into digital files to be heard using your computer, CD player, or MP3 player.
You probably own a wonderful stereo system to hear all of your oldies or favorite classics. But, you can't take your record player in the car or your computer unless you have some type of unit to record and convert those oldies to do this.
What is unique about converting your vinyl into CD's is you get to select the tracks you want to record. You can mix up the selections by using different types of formats when recording them to CD.
Over time, vinyl and cassette tapes will deteriorate and eventually wear out. Now, you only have to record your favorite selections once, from any source, and then get to hear them over and over again on CD. I really enjoy listening to my oldies again and again without having to play the actual record on the turntable or tape on the tape player.
You should preserve your vinyl record collection by converting them to CD which can be played over and over again until the CD wears out. You can hear your selections on CD verses trying to buy them in the store and having tracks and paying for those that you may not like.
Transferring your music collection into a digital, portable format couldn't be simpler.
When I purchased my unit in 2007, this recorder cost $400 and did not have the cassette recording option. Now, this is a great bargain today at this reduced price and you can record cassettes.
Recommended Recorder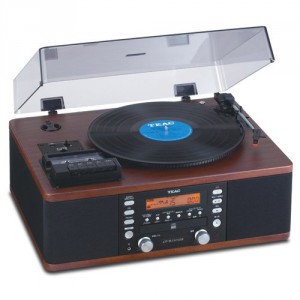 I own an old Teac GF-350 vinyl to CD recorder and have recorded over 100 CD's and it still works just fine today. However, it does not have the cassette feature which I would like. Also, having a way to convert the tracks to digital files would be nice too.
Well, the model unit I recommend is the Teac LP-R550USB CD Recorder.
This unit provides playback and recording in various formats.
Video Review For LP-R550USB All-In-One Turntable
Below is an excellent review of all the functions of this unit. Take a look!
Product Features for TEAC LP-R550USB CD Recorder
Below are the product features for this unit:
Manufacture: TEAC
Current Price: Black $285.69 Walnut $295.99
ASIN Number: B006BUVP5M (Black)
ASIN Number: B006H6OR1Y (Walnut)
Model Number: LP-R550USB (Black)
Model Number: LPR550-USB (Walnut)
Allows recording from Phono, Tape, Tuner, or AUX
Uses: CD, CD-R and CD-RW "Digital Audio" discs for recording Note: Music CD-R discs work just fine too.
Cassette Player with High Normal Tape Positions
USB Port, Audio input and Output, Headphone output
Remote Control
Built-in AM/FM tuner
CD Recorder
USB audio interface
General Section:

PLL Synthesized AM/FM Stereo Tuner
Rotary Volume Control
Bass-reflex type speakers
Speakers: 2"-3/4 Full Range Cone x 2
5 W + 3.5 W Amplifier Output Power
Audio Input: x 1 (RCA)
Audio Output: x 1 (RCA)
USB Port: x 1
Headphone: x 1 (Stereo Mini)
Remote Control
Operation: 120V AC, 60Hz
Dimension: (W x H x D): 18-1/22" x 9-1/16" x 15-3/8" (470 x 230 x 390 mm)
Weight: 24.3 lbs. (11.0 kg)

CD Recorder Section:

CD-R/RW Recording from Phono, Tape, Tuner, AUX
Drawer-type CD Recorder
Auto/Manual Track Increment
Rec Level Control for Analogue Source Recording
Repeat (1/All), Shuffle, 32-track Program Play

USB Section:

USB Audio Out from Phono, CD, Tape, Tuner, AUX to PC
MP/3/WMA/PCM* Recording on PC/Mac

Turntable Section:

3-speed Turntable (33-1/3, 45, 78rpm)
Auto Return

Tape Section:

Cassette Tape Player
High/Normal Tape Positions
Play, Pause, FWD, REW Operation
Recording and Listening Formats
You can read and learn more about each recording format types below.
CD Recording
Convert album and cassette collections into CD format with LP-R550USB. Record CDs from vinyl, cassette, AM/FM or auxiliary input sources. Compilations can be made by dubbing recordings from multiple collections onto one CD before finalizing the disc. CD recording is a simple setup, and source input levels can be adjusted to ensure CD recordings sound great.
USB Recording
Convert collections into digital files using the USB interface in combination with recording software on a Mac or PC. After recording albums, cassettes, AM/FM, or auxiliary sources into a computer as digital files, load them onto a media player and take your recordings anywhere.
Turntable
The LP-R550USB turntable offers 3-speed selection supporting 33-1/3, 45, and 78rpm (SP) records. A cue lever on the tone arm allows the stylus to be gently placed and lifted to prevent scratching.
When the tone arm reaches the end of the record the arm with automatically lift and return to the holder. In the event a needle breaks, there is no need to search high and low for a stylus. Replacements are available for order from TEAC dealers, or directly from their parts department.
AM/FM Tuner
Store your favorite FM and AM stations into preset channels 1 to 9 respectively. Find stations easily with Auto Tuning selection or locate them manually. Stereo and Mono selection is available – if an FM signal is weak selecting mono will reduce unwanted noise. AM Loop and FM Indoor antennas are included. In areas where signals are weak, an outdoor FM antenna may be connected to the 75 ohm connector.
CD Playback
Listen to commercial or recorded CDs from start to finish, in repeat single or repeat all modes, in shuffle mode, or using programmed playback. Up to 32 tracks can be programmed in any order using the included wireless remote.
Cassette and Auxiliary
The cassette player is easily accessible, located on top of the LP-R550USB next to the turntable. Stereo RCA inputs located on the back panel make it possible to connect an external audio source for playback or recording. Send audio signals out to external audio equipment using the stereo RCA outputs.
Customer Reviews and Product Rating
There are over 190 customers who have purchased this product and have rated this unit with an average score of 4.1 out of 5, which is excellent.
You can read all of the 190 plus customer reviews
by clicking on the link.
Personalize The Recorded Tracks
With this unit, you can personalize the tracks that you want to record. For example, if you should own more than one album or 45 from the same artist, you create the new tracks on the Recorded CD in the order you want to record the song or songs. I like this feature a lot because there are some tracks on albums that I would like to skip and not be included on the recorded CD. With this recorder, you can do this. Another nice feature is you can record a source vinyl record in any order from a 78, 45 or 33-1/3rpm, or cassette tape, as this unit plays all three phono formats and cassette tapes.
After you record the tracks you want, you can put away the vinyl records and listen to the CD.
Frequently Asked Questions
Below are the most frequently asked questions about this Teac LP-R550USB recorder.
Can you add additional speakers? Answer: There are left and right aux in and out jacks on the back (RCA plugs) that should allow other speakers if you connect through an amp. I used the in jacks to hook in an XM radio and it works fine. Haven't tried other speakers since the device is sufficient for our area.
Does this player record from vinyl, CD and tape to USB? Answer: Yes.
What do you do to "finalize" the CD so it will play in any machine? Answer: I had the same problem; but, finally, figured it out reading the instructions on page 30 of my booklet. With the CD to be finalized in the machine, select 'CD' from the panel of choices (Phono/Tape/AUX, FM/AM, CD). Press the finalize/erase button. "FINAL" appears on display. Press "Play" button to start finalizing. "NO TOC" and "REC" indicators blink, and the remaining time for the finalizing operation appears in the display When the operation has been finished, the NO TOC indicator turns off and the display returns to the track/time display. Open the CD tray to remove the finalized CD. The finalize operation takes 1:11 to complete.
Where is the product made? Answer: In China.
Does this unit record on regular digital CD-R or on Music CD-R? Answer: Yes, you can record on CD-R or CD-RW and Music CD-R. Music CD-R in some instances give better quality to sound than the others.
What is the format of the recorded output? Answer: There are 3 output types you can select from to encode to: MP3/WMA/PCM. Other than recording to a CD, you can connect by USB to your computer and record there. By Jedi_Donkey on August 22, 2014. The file format will then depend on the type of software you are using on your computer. By Ron Yancey on April 8, 2014. Perhaps I am too simplistic, but I think the obvious answer is that since you can only record to a CD, the output is Digital. You cannot record to the tape or phonograph portions of the unit.
By Ron Yancey on April 8, 2014.
Can I record cassettes to CD? Answer: Yes, you can copy from cassette to CD. You can also record from CD to cassette. Unless you monitor the recording process when recording from cassette or LP records you lose search capabilities on the CD. By default, the recorder will record the side 1 of the cassette as the first item (song) on the CD and side 2 of the cassette as item 2 (song). Thus you end up with a CD with 2 songs on it; song 1 contains the entire side one of the cassette and song 2 contains the entire side 2 of the cassette.With a commercially produced CD you can go to any song on the CD using your players search function. Unless you monitor your recording process to stop and start recording after each song you will not be able to effectively use the search capability. By stopping and restarting recording after each song you restore search capability and your CD will be searchable just like the commercially produced CDs.This is the only shortcoming that I have discovered with the TEAC CD recorder. It is of sturdy design and well crafted. I have hundreds of LP albums and cassettes to transfer to CD. So far the unit has operated flawlessly. My CDs play on everything I've tried providing I don't forget to finalize the CD after recording; a very simple process. If you don't finalize the disc it can still be played on the TEAC unit. You can even add more material to the CD. Once the CD is finalized you can no longer record on it. I hope this answers your concerns. I would not hesitate to buy this unit again. I did a lot of research prior to finding the TEAC LP-R550USB CD Recorder. I am convinced that this recorder is the best value on the market, both cost wise and ease of use. Norman J. Hunt on October 19, 2013.
Will it transfer 78's to CD? Answer: Yes.
On the Teac site it mentions…the LP-R550USB has a cassette player/recorder…Can one record from the LP to a cassette? Answer: No, the cassette player is just a player, not a recorder. That would be a good idea for a product though. By Bob DeReimer on December 1, 2012.
How do I connect external speakers? Answer: I bought a pair of powered speakers. With powered speakers you don't need an amplifier, the amplifier is built into one of the speakers. You plug the amplified speaker into a wall outlet, connect the two speakers with the wire provided then connect the amplified speaker to the TEAC with the wires supplied, using the input/output connections. I bought a pair of Audio Engine 5+ they are a little expensive but they have plenty of volume and sound really good.
Is there a place for a blank CD? Answer: Yes, on the right side of the player controls there is a silver button that says open/close. When you push that the cd compartment comes out so you can insert it a blank into it.
Does this play CD's? Seems to say you can just record to CD. Answer: The only way you can record CD to CD is have an additional CD player plugged into the aux. input. Note: This unit is made to transfer from a source to a CD or to your computer using the USB port. Yes, is does play CD's.
What is the difference between the black with the walnut units other than price? Answer: Nothing – Cosmetics only. They both operate the same.
Helpful Recording Tips
Below are some helpful recording tips that you can use when recording on this unit:
If you know you are going to record more than 50 hours of vinyl records to CD, it's recommended that you replace the stylus (needle) after every 50 hours of recording time (that's about 38 CD's). To determine the number of styluses you need approximate the total number of hours your collection will require to record.
Purchase plastic CD cases to protect and store the recorded CD's in.
As you record each track you may want to write down the song title and artist on a sheet of paper to help you remember later. Insert the paper in the CD case with the CD or keep this information in a separate log or on your computer.
The maximum amount of time each CD holds is 80 minutes or 4,800 seconds. The unit will only let you record up to 79:59, and then automatically finalize the CD. I recommend that you write down the time for each track. So, you can stop recording on the CD before reaching the 79:59 mark. Otherwise, you find yourself letting the unit finalize in the middle of a song title being recorded. Your only option is to re-record the same song title to another CD.
Finalize CD After Each Recording Session: When you have finished recording to a CD, you must finalize it so it will play in all CD Players.
Average Number of Actual Recording Tracks: 20-30 for oldies (40's, 50's, 60's, 70's & 80's) as they average 2-4 minutes per song. 10-16 for songs after the 80's as they average 5-6 minutes or even longer per song.
You have the option of recording an album as one track or split into individual ones, which I recommend. 45's should be individual tracks.
You can also record old cassettes you have stored. I recommend that these be recorded as one track because of the difficulty in trying to separate the tape into individual tracks. However, you can. It will be very time consuming in trying to press the "play" button on the cassette player and the "record" button on the recorder at the same time. A way around this problem is to press the "play" button first on the recorder and then the cassette player. Note: If you use the one track method for cassette tapes, you may want to write down the song titles in the order that they are being recorded. This is especially true if you are going to record more than one cassette tape to the same CD.
Shop TEAC LP-R550USB Turntable with Cassette CD Recorder
To shop for this product, click on the image below where you will be taken to the Amazon ordering page. Once there you can select the item and place your order.
As an Amazon associate I earn from qualified purchases.
Go back to The Top 100 Songs of All Time home page.