Top 10 Elvis Presley Hits of All-Time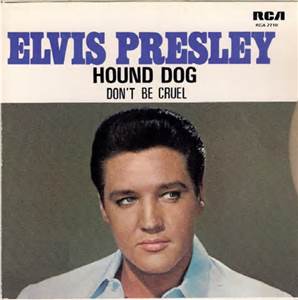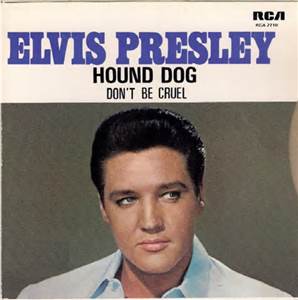 The top 10 Elvis songs are all number one hits. Elvis debuted in 1956 and took Rock N' Roll by storm. Had 5 #1 Hits that year alone and staying at #1 for 25 weeks. Over his career he became "The King of Rock and Roll".
In total, Elvis had 165 singles to make Billboard's Hot 100 Chart. He also had 38 singles to reach the top 10, 115 songs in the top 40, and 18 number one hits. His last #1 hit was "Suspicious Minds" in 1969, and his last top 10 hit was "Burning Love" at #2 in 1972. His last top 40 hit was "My Way" at #22 in 1977.
Elvis Presley had number one hits in each year beginning in 1956 and ending in 1962. The total number one hits during these years was 17.
Elvis is unique in that his single Hound Dog/Don't Be Cruel became the first double sided #1 hit on the charts. The duel sides spend 11 weeks at #1. No other solo artist has accomplished this feat. The song Don't Be Cruel/Hound Dog remains Elvis' most popular recordings of all time selling over 7 million copies.
So far, Elvis has sold over 500 million to 1 billion records world-wide according to Guinness World Records and is by far the best-selling solo artist of all-time. He holds the record for the most songs charting in the top 40 on Billboard with 115.
Ranking Elvis's Top 10 Songs of All-Time
Since I grew up in the era of Elvis I could have a bias in ranking his top 10 songs of all-time. But I won't do that here. We will let the popularity of the songs to rank his top 10 of all-time. Teenagers that grew up during his debut were buying his records in droves. Air play and juke box playing had a huge role in the popularity of this songs.
The ranking system used is very simple. The songs that ranked at #1 will rank higher than those that ranked at #2 on Billboard's Hot 100 Chart. So, that is what was used.
However, upon examination there are 18 number one singles that hit the charts and how do we determine which one is more popular than the others and to rank the top 10 of all time. I will explain.
First, the singles will receive a point total for the number of weeks the song was charted on Billboard. The Hot 100 Chart came out in 1958, prior to that Billboard Best Sellers In Stores, Air Play, Most Popular in Juke Boxes, and Record Sales. Each record achieved a point total based on its highest position reached on all the charts and charted weeks was used on the chart the record achieved its highest position.
Second, after each song was awarded a point total, then we ranked them according to the highest position reached on the charts. Since, all the songs were #1 hits, this was broken by how many weeks each song stayed at the #1 peak position from all the charts.
Third, if ties still remained, we used the weeks the song stayed in the top 10.
Fourth, if ties still remained, we used the weeks the song stayed in the top 40.
Fifth, if any ties still remained we used the total weeks the song stayed on the charts.
Sixth, if ties still remained, we used the point system each song achieved from the highest total from all the charts.
Using the above system to me is a fair way to determine which song is the most popular and can rank his all-time the top 100 hits.
Top 10 Elvis Presley Songs of All-Time
We are now ready to present to you Elvis' top 10 hit songs of all-time.
Rank / Title/ Peak Position # / Peek Weeks () Year
1. Don't Be Cruel/Hound Dog / #1 (11) 1956
2. All Shook Up / #1 (9) 1957
3. Heartbreak Hotel / #1 (8) 1956
4. Jailhouse Rock / #1 (7) 1957
5. (Let Me Be Your) Teddy Bear / #1 (7) 1957
6. Are You Lonesome Tonight? / #1 (6) 1960
7. Love Me Tender / #1 (5) 1956
8. It's Now Or Never / #1 (5) 1960
9. Don't / #1 (5) 1958
10. Stuck On You #1 (4) 1960
Source: Joel Witburn's Pop Annual 1955-2011.
There you have it Elvis' all-time top 10 hit songs. If you noticed that the top 10 songs stayed at the #1 position for a total of 67 weeks.
Shop Elvis's Top 10 Hits
You can shop for Elvis Presley's top 10 hits of all-time by clicking on the image below. You will be taken to Amazon where you can place the order. The CD below has all of Elvis' #1 songs on it and includes the top 10 in songs on above chart.