Pat Boone Overview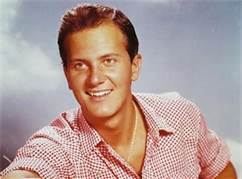 The Pat Boone greatest hits will cover his rise to stardom and his songs
that he recorded. He was born Charles Eugene Patrick Boone on June 1, 1934 in Jacksonville, Florida. He is a descendant of American frontier hero Daniel Boone. After graduating high school, he married Shirley Foley the daughter of Red Foley the great country and western singer. While at North Texas State University he earned the right to appear on "The Ted Mack Amateur Hour" show, which led to his year-long tenure on "The Arthur Godfrey Show". He started recording for a small Republic label with no success. 
Music Career
In 1955, he signed with Dot Records and had his first charted single "Two Hearts, Two Kisses" which peaked at #16 on Billboard's Pop chart in April. In July, he had his first number one hit with "Ain't That A Shame" which topped the charts for two weeks. Between 1956 and 1963, he had 54 chart appearances, and many were two sided hits.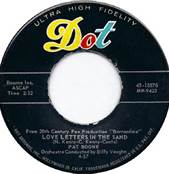 In 1957, he recorded his biggest selling record "Love Letters In The Sand" which topped the charts for seven weeks. This song is also is his single of longevity at 34 weeks on the chart. Also, in that same year, he had two other number one hits "Don't Forbid Me" 1 week, and "April Love", six weeks. His last number one song was recorded in 1961, titled "Moody River", a #1 song for 1 week. His last top ten hit was "Speedy Gonzales", in 1962, and his last Hot 100 Pop single was "July You're A Woman" in 1969, at #100 for two weeks. All told, he had 59 singles to chart on the Hot 100 Pop chart.
Musical Achievements
Overall, Pat Boone had 6 #1's, 18 top 10, 26 top 20, and 38 top 40 hits. He also had 3 top 10 albums. He also holds a Billboard record of having a hit single spending 220 consecutive weeks on the charts with one or more songs each week. During his popular singing career he also appeared in 12 films.
Billboard ranks Pat Boone as the #2 artist from 1950-1959 and #12 of all-time from 1955-2010.
Listing of Pat Boone's Number 1 & Top Ten Songs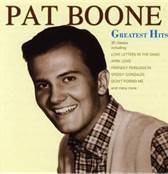 Below is a complete listing of Pat Boone's Pop number 1 & top ten songs. Number 1 songs are in bold and number of weeks at #1-3 in ().
Ain't That A Shame – September 17, 1955 #1 (2)
At My Front Door – October 29, 1955 #7
I'll Be Home – February 4, 1956 #4
Long Tall Sally – April 14, 1956 #8
I Almost Lost My Mind – July 28, 1956 #1 (4)
Friendly Persuasion (Thee I Love) – September 15, 1956 #5
Chains Of Love – September 15, 1956 #10
Don't Forbid Me – February 9, 1957 #1 (1)
Why Baby Why – March 16, 1957 #5
Love Letters In The Sand – June 3, 1957 #1 (7)
Remember You're Mine – August 12, 1957 #6
April Love – December 16, 1957 #1 (6)
A Wonderful Time Up There – February 17, 1958 #4
It's Too Soon To Know – April 17, 1958 #4
Sugar Moon – May 5, 1958 #5
If Dreams Come True – July 14, 1958 #7
Moody River – June 19, 1961 #1 (1)
Speedy Gonzales – June 16, 1962 #6
Adult Contemporary Chart Singles
Moody River – July 17, 1961 #4
Big Cold Wind – August 2, 1961 #5
Johnny Will – November 13, 1961 #10
I'll See You In My Dreams – March 3, 1962 #9
Love Letters In The Sand – Original Recording

Shop Pat Boone Greatest Hits
If you are interested in having some of these hits or all of his #1's, then here is an album you should consider adding to your collection of you are a Pat Boone fan "Friendly Persuasion: His Greatest Hits". Friendly Persuasion: His Greatest Hits
. This album also contains all of Pat Boone's top ten hits. This album contains two CD's each containing 25 songs for a total of fifty of Pat Boone's best hits.
Now, you can shop for individual Pat Boone Greatest Hits
by clicking on the link. You will be taken to the Amazon Try Prime Digital Music page where you can download any individual Pat Boone song for a small fee.
As an Amazon associate I earn from qualified purchases.
Go back to the top 100 songs home page.