Paul Anka Overview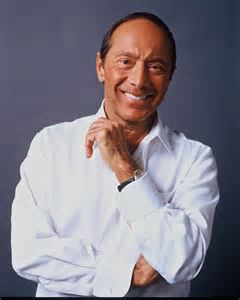 This is a review of Paul Anka Greatest Hits as a singer and songwriter. He is the first successful Canadian singer who made an impact. He was born Paul Albert Anka on July 30, 1941, in Ottawa, Ontario Canada. This is his story…
He became famous in the late 1950's, 60's, and 70's with many top ten and top forty hits. He wrote the theme song for "The Tonight Show Starring Johnny Carson" and a big hit for Tom Jones "She's a Lady". He also wrote the English lyrics for Frank Sinatra's signature song, "My Way" (originally the French song "Comme d'habitude").
Early Life
Paul was born to Andy and Camelia Anka, where they owned a restaurant called the Locanda. He sang with the St. Elia Antiochian Orthodox Church choir under the direction of Frederick Karam, with whom he also studied music theory. He studied piano with Winnifred Rees. He attended Fisher Park High School where he was part of a vocal trio called the "Bobby Soxers".
Early Music Success

Paul Anka recorded his first single, "I Confess" when he was 14 but the song never charted on the Pop Charts. In 1957, he went to New York City where he auditioned for Don Costa at ABC, singing what was widely believed to be a love struck verse he had written to a former babysitter. In an interview with NPR's Terry Gross in 2005, he stated that it was to a girl at his church whom he hardly knew.
Paul Anka's first charted single was "Diana" and went to number one for 1 week in 1957. This is one of the best-selling singles ever by a Canadian recording artist. His next top ten hit was "Your Are My Destiny" in 1958 and went to #7. He also had two other top twenty hits that same year "Crazy Love" at #15 and "Let The Bells Keep Ringing" at #16.
Singing Career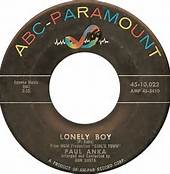 In 1959, he had his biggest hit of all-time when he released "Lonely Boy" which went to #1 for 4 weeks and was his second #1 hit. The song was from the film "Girls Town" also starring Anka.
At seventeen he became one of the biggest teen idols of the time. He toured Britain, then Australia with Buddy Holly. Prior to Holly's death, Buddy recorded a song written by Anka titled "It Doesn't Matter Anymore" which was Holly's last top 20 hit at #13. Anka donated the royalties to his widow.
His next release was "Put Your Head On My Shoulder" and peaked at #2 for three weeks, in August 1959. In November, he had another top ten hit "It's Time To Cry" at #4. In February 1960, he had his fourth consecutive top ten hit with "Puppy Love" which peaked at #2 for two weeks. In May of 1960, he had another top 10 hit with "My Home Town" at #8.
In 1960, Anka signed with RCA Victor, but like most North American recording artists saw his career stalled by the British Invasion in the 1960's. By the late 1960s, his career focused on adult contemporary and big-band standards, played regularly in Las Vegas. While with RCA he had no top ten hits but had three top twenty hits with "Love Me Warm And Tender" #12, "A Steel Guitar And A Glass Of Wine" #13, and "Eso Beso (That Kiss)" at #19 all in 1962.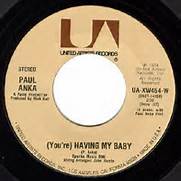 In the early 1970s he signed with Buddah Records. After more than ten years without a top 25 hit record, he signed with United Artists and in 1974 teamed up with Odia Coates to record his third and last #1 hit, "(You're) Having My Baby" staying in the top spot for three weeks in July, 1974. The two would record two more duets that made it into the Top 10, "One Man Woman/One Woman Man" (#7) and "I Don't Like to Sleep Alone" at #8 in 1975.  In 1975 he recorded a jingle for Kodak written by Bill Lane (lyrics) and Roger Nichols (melody) called "Times of Your Life". It became so popular Anka recorded it as a full song, and peaked at #7 on the Hot 100 chart in 1976.
Paul Anka's last top forty Hot 100 chart song was "Hold Me 'Til The Mornin' Comes" which peaked at #40 in 1983 and stayed on the charts for 16 weeks. This was his last single to chart.
All told, Paul Anka had a total of 3 #1's, 12 Top 10, 22 Top 20, and 33 Top 40 songs. He also had 2 top ten albums. Billboard ranks Paul Anka as the #18 artist from 1955-1959, the #40 artist from 1960-1969, and the #30 artist of all-time from 1955-2010. He charted 60 singles on the Hot 100 chart with seven bubbling under. Anka also had 20 singles to chart on the Adult Contemporary charts with 1 at #1, and 9 in the top ten. He was ranked as the #74 artist of all-time on the Adult Contemporary chart.
Paul Anka's Top Ten and #1 Songs
Below is a complete listing of Paul Anka's top #1's and top ten hit songs on both the Hot 100 and Adult Contemporary charts. The list will include title, date, peak position #, number of weeks at #1 and #2 in (). The number one hits will be in bold and in chronological order.
Hot 100
Diana – September 9, 1957 #1 (1)
You Are My Destiny – January 20, 1958 #7
Lonely Boy – July 13, 1959 #1 (4)
Put Your Head On My Shoulder – October 5, 1959 #2 (3)
It's Time To Cry – December 28, 1959 #4
Puppy Love – February 22, 1960 #2 (2)
My Home Town – May 23, 1960 #8
Dance On Little Girl – May 29, 1961 #10
(You're Having) My Baby – August 24, 1974 #1 (3)
One Man Woman/One Woman Man – November 9, 1974 #7
I Don't Like To Sleep Alone – March 15, 1975 #8
Times Of Your Life – November 15, 1975 #7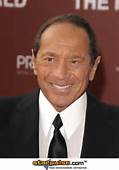 Adult Contemporary
Goodnight My Love – January 4, 1969 #2 (1)
(You're Having) My Baby – July 6, 1974 #5
One Man Woman/One Woman Man – November 16, 1974 #5
I Don't Like to Sleep Alone – March 22, 1975 #8
(I Believe) There's Nothing Stronger Than Our Love – July 26, 1975 #3
Times Of Your Life – January 3, 1976 #1 (1)
Anytime (I'll Be There) – April 3, 1976 #2 (1)
Happier – December 11, 1976 #10
Hold Me 'Til The Mornin' Comes – May 28, 1983 #2 (3)
Shop Paul Anka Greatest Hits
If you are a fan of Paul Anka, you now can own an album that has all his #1 hits and some of his top tens too on his 30th Anniversary Collection: His All Time Greatest Hits 24 Tracks
. You will be glad to have this item in your collection.
Now, you can shop for individual Paul Anka Greatest Hits
by clicking on the link. You will be taken to Amazon Try Prime Digital Music page where you can download individual Paul Anka hits for a small fee.
As an Amazon associate I earn from qualified purchases.
Go back to the top 100 songs of all time home page.