The Four Seasons Overview
The Four Seasons Greatest Hits is a review of their career as an American rock and pop band that became internationally successful in the 1960's. This group was the most popular rock band before the Beatles. They are also one of the best-selling musical groups of all time, having sold over 100 million records worldwide. Here is the rest of their story…
The Groups Beginning
Frankie Valli's first commercial release was "My Mother's Eyes" (as Frankie Valley) in 1953 and was not a success on the charts. The following year, he and Tommy DeVito formed the Variatones (with Hank Majewski, rhythm guitar, Frank Cattone, accordion, and Billy Thompson, drums), which between 1954 and 1956 performed and recorded under a variety of names before settling on the name "The Four Lovers". The same year, the quartet released their first record, "You're the Apple of My Eye" which peaked at #62, in 1956. They released six additional singles with no success.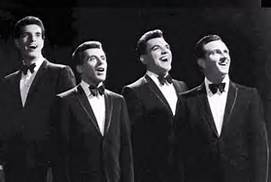 From 1956 until 1960, the group stayed together, and were performing in clubs and lounges as the Four Lovers and recording on various record labels with various names: Frankie Tyler, Frankie Valley, Frankie Valley and the Travelers, Frankie Valle and the Romans, the Village Voices, and the Topics are some of the 18 "stage names" used individually or collectively by the members of the group.
In 1958, the group started working with producer Bob Crewe. Later that year, they were performing in Baltimore on the stage with the Royal Teens who were singing "Short Shorts" a huge success that year for them, the song co-written by a 15-year old Bob Gaudio who was the guitarist.
The next year, Gaudio replaced Nick DeVito in the group's lineup, with Gaudio doubling as both keyboardist and guitarist, and Charles Calello replaced Majewski on bass. In 1960, Calello left and was replaced by Nick Massi (Calello would soon return as the group's arranger).
Despite the change of personnel, the fortunes of the Four Lovers did not change at the beginning of 1960, when they failed an audition for a lounge at a Union Township, Union County, New Jersey bowling establishment called The Four Seasons and they took that name for the group. Despite the last few years of frustration of the Four Lovers, this proved to be the turning point for the group: on a handshake between keyboardist/composer Bob Gaudio and lead singer Frankie Valli, the Four Seasons Partnership was formed.
Rise To Fame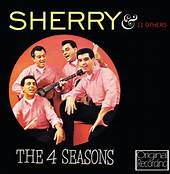 The Four Seasons released their first single in 1961 ("Bermuda"/"Spanish Lace" on Gone Records) and it did not chart. The group began working with producer Bob Crewe as background vocalists, and sometimes leads under different group names, for his productions on his own Topix label. Bob Gaudio eventually wrote a song that, after some discussion between Crewe and Gaudio, was titled "Sherry". The song was recorded and Crewe, along with members of the group, went about soliciting labels to release the record.
It was Frankie Valli who spoke with Randy Wood, West coast sales manager for Vee-Jay Records, who, in turn, suggested the release of "Sherry" to the decision makers at Vee-Jay. "Sherry" made enough of an impression that Crewe was able to sign a deal between his Production Company and Vee-Jay for its release.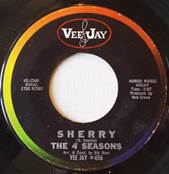 In 1962, the group released their first album, featuring the single "Sherry", which was not only their first charted hit but also their first number-one song and topped the Hot 100 chart for five weeks. They followed this single with the release of "Big Girls Don't Cry" and it was their second number one hit and topped the Hot 100 for five weeks. Their next single was "Walk Like A Man" released in 1963, and was the groups third number one hit and topped the charts for 3 weeks. This marked the first time that a rock band hit #1 on Billboard singles charts with three consecutive entries.
In 1963, they had a top ten hit "Candy Girl" and had other singles to chart but not in the top ten. In 1964, they switched labels to Phillips and released a single "Dawn (Go Away)" which peaked at #3 for three weeks. After Dawn, they released their next top ten hit "Ronnie" which reached #6 on the Hot 100 chart. The group's next single was "Rag Doll" which went to #1 for two weeks and became their fourth #1 hit. The year concluded with the release of "Save It For Me" which peaked at #10.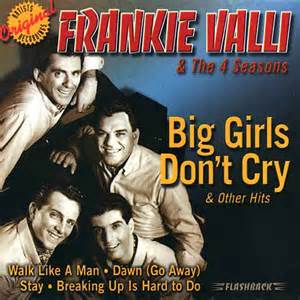 The Beatles were a huge success between the years of 1964-1970, but that did not detract the popularity of the Four Seasons. They are the only act to have a Hot 100 #1 song before, during and after them. Nick Massi left the Four Seasons in September 1965. The group's arranger, Charles Calello (a former member of the Four Lovers), stepped in as a temporary replacement. A few months later, Joe Long was permanently hired. Joe became the mainstay on bass and backing vocals until 1975.
Continued Success 
In 1965, the group had only one top ten hit which was "Let's Hang On" a #3 hit. The following year they had three more top ten hits: "Working My Way Back To You" a #9 hit, "I've Got You Under My Skin" a #9 hit, and "Tell It To The Rain" a #10 hit. In 1967, the group had only one top ten hit "C'mon Marianne" a #9 hit. The group had no other top ten hits until 1975.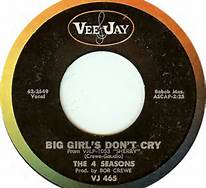 In 1975, they released "Who Loves You" which went to #3 on the Hot 100 chart. They also released in the same year, "December, 1963 (Oh, What A Night)" which went to #1 for three weeks in 1976, and became their fifth and last number one song.
The group's last Hot 100 song was "Spend The Night In Love" #90 in 1980.
Awards
The Four Seasons were inducted into the Rock N Roll Hall of Fame in 1990, and joined the Vocal Group Hall of Fame in 1999. All told, the Four Seasons had 54 singles to chart on the Hot 100 with three hitting the Bubbling Under chart. They had 5 #1's, 15 top ten, 22 top twenty, and 31 top 40 hits. They also had 5 top ten albums. Billboard ranks the Four Seasons as the #6 artist from 1960-1969, and the #33 artist of all time from 1955-2010.
Top Ten & Number One Hits
Below is a complete listing of their top ten and number 1 hits, in bold, listed in chronological order. The list will include the title, date, highest peak position #, and number weeks at #1, #2, & #3 position in () on the Hot 100 chart. Number one songs are in bold.
Hot 100 Chart
Sherry – September 15, 1962 #1 (5)
Big Girls Don't Cry – November 17, 1962 #1 (5)
Walk Like A Man – January 26, 1963 #1 (3)
Candy Girl – July 6, 1963 #3 (1)
Dawn (Go Away) – February 1, 1964 #3 (3)
Ronnie – April 11, 1964 #6
Rag Doll – July 18, 1964 #1 (2)
Save It For Me – August 29, 1964 #10
Let's Hang On – October 9, 1965 #3 (1)
Working My Way Back To You – January 29, 1966 #9
I've Got You Under My Skin – September 3, 1966 #9
Tell it To The Rain – December 10, 1966 #10
C' Mon Marianne – June 10, 1967 #9
Who Loves You – August 23, 1975 #3 (2)
December, 1963 (Oh, What a Night) – March 13, 1976 #1 (3)
Shop Four Seasons Greatest Hits
If you are a great fan of the "Four Seasons" and their music, than the following album is for you. This album Very Best of Frankie Valli and the Four Seasons 20 Tracks
contains all of their #1 hits and many of their top tens as well.
Now, you can shop for individual songs of The Four Seasons Greatest Hits
by clicking on the link. You will be taken to the Amazon Try Prime Digital Music page where you can download individual Four Season's songs for a small fee.
As an Amazon associate I earn from qualified purchases.
Go back to the top 100 songs of all time home page.