The McGuire Sisters Overview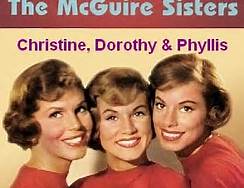 The McGuire Sisters greatest hits review is of their career as a singing trio. The group was composed of three sisters Christine born July 30, 1926, Dorothy born February 13 1928 and died on September 7, 2012, and Phyllis McGuire born February 14, 1931. They were a popular singing group in the fifties. This is their story…
Their Career and Success
They signed a contract with Coral Records in 1952. That same year they appeared on Arthur Godfrey's Talent Scouts, and Godfrey hired them for his other shows, where they remained for seven years. The sisters often were compared to The Andrews Sisters. In early McGuire recordings Phyllis' voice almost can be mistaken for that of Patty Andrews'.
Their first record was released in April 1954 "Pine Tree, Pine Over Me" and peaked at #26. The next recording was their first top ten hit "Goodnight, Sweetheart, Goodnight" which peaked at #7 in June 1954. That same year, they had their second top ten hit with "Muskrat Ramble" at #10 in November.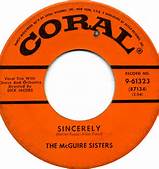 The groups biggest hit was released in January 1955, called "Sincerely" which went to #1 and stayed at number one for ten weeks. This is their signature song of all-time and their first number one hit on the pop charts. In June of 1955, they had their third top ten hit with "Something's Gotta Give" peaking at #5. Next came "He" which went on to #10 and their 4th top ten hit. Then in 1958, they struck gold again with "Sugertime" and went to #1 for four weeks in 1958. That song sold over 1 million copies. This was their second and last #1 song on the charts.
Music Achievements
In January 1959, they had a top twenty hit "May You Always" at #11. The group's last top twenty hit was "Just For Old Time's Sake" in March of 1961 at #20. Their last Hot 100 song was a solo single by Phyllis titled "I Don't Want To Walk Without You" at #79. The actual last charted single by the trio is "Just Because" in November 1961, peaking at #99.
All told the McGuire Sisters had a total of 2 #1's, 6 Top 10, 11 Top 20, and 19 top 40 hit songs. They also had 1 top ten album. They had a total of 34 charted singles on the pop charts. Billboard ranks the McGuire Sisters as the #9 artist from 1950-1959 and the #155 artist of all-time from 1955-2010. The group had three charted singles on the Adult Contemporary chart "Tears on My Pillow" #12, "I Don't Want To Walk Without You" #13 and "Truer Then You Were" at #30.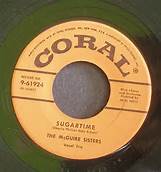 After their careers wound down, they opened a restaurant in Brandenton, Florida, calling it McGuire's Pub.
Awards
The McGuire Sisters were inducted into the National Broadcasting Hall of Fame in 1994, and in 2001 they were inducted into the Vocal Group Hall of Fame. They also have been inducted into the Coca-Cola Hall of Fame and the Headliners' Hall of Fame. They were inducted into the Hit Parade Hall of Fame in 2009.
Top Ten and #1 Songs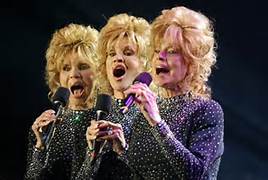 Below is a complete list of the top ten and number one song's by the McGuire Sisters. The list will include the title, date, peak position #, and number of weeks at #1 in (), in chronological order with the #1 songs in bold.
Goodnight, Sweetheart, Goodnight – June 26, 1954 #7
Muskrat Ramble – October 16, 1954
Sincerely – February 10, 1955 #1 (10)
Something's Gotta Give – June 4, 1955 #5
He – October 29, 1955 #10
Sugartime – February 17, 1958 #1 (4)
Shop The McGuire Sisters Greatest Hits
If you are a great fan of the McGuire Sisters, you can own all of their top ten and #1 hits with the album: The McGuire Sisters – Greatest Hits
.
Now, you can shop for individual songs of The McGuire Sisters Greatest Hits
by clicking on the link. You will be taken to the Amazon Try Prime Digital Music page where you can download individual McGuire Sister's hit songs for a small fee.
As an Amazon associate I earn from qualified purchases.
Go back to the top 100 songs of all time home page.