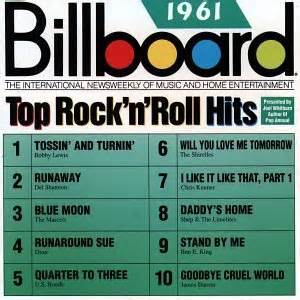 Top Ten Charts 1961
The top ten charts 1961 will provide, at a glance, the weekly rankings of the top ten songs for the year. Here is a brief time capsule snapshot of the news events for the year of 1961:
John F. Kennedy creates the Peace Corps which stirs thousands of college students to join.
In International news, the CIA-backed invasion of the Bay of Pigs is a disastrous failure. East Berlin erects the Berlin Wall. The U.S. sends its first military companies to South Vietnam. The U.S. breaks diplomatic relations with Cuba. OPEC is formally constituted.
The biggest fad of the year is the Yo-yo.
In sports, Roger Maris breaks Babe Ruth's homerun record of 60 by hitting 61. The Green Bay Packers defeat the New York Giants in the NFL Title game.
In television, TV Westerns are the top three programs with Wagon Train, Bonanza and Gunsmoke in that order.
In music, "Tossin' And Turnin'" by Bobby Lewis becomes the record of the year. The song "Moon River" wins the Oscar for Best Song. The year of 1961 had 21 #1 songs and 680 charted singles on the Hot 100.
On the chart of January 16, 1961, there were four (4) instrumentals in the top ten, which was the most for any chart in that year.
On January 23, 1961, the first three positions on the chart were instrumentals. The only time in chart history this feat was done.
The top ten charts for 1961 will have a week by week summary of the 10 most popular songs on the Hot 100 chart. The chart will have the following information:
Date of chart
Last Week (last week's ranking)
This Week (current ranking)
Title
Artist
Number of weeks in the Top Ten
Number of weeks at #1
JANUARY 9, 1961
LAST
THIS
WEEK
WEEK
TITLE
ARTIST
T10
#1
2
1
Wonderland By Night (I)
Bert Kaempfert
5
1
1
2
Are You Lonesome Tonight
Elvis Presley
8
6
4
3
Exodus (I)
Ferrante & Teicher
5
3
4
Last Date (I)
Floyd Cramer
9
14
5
(Will You Love Me) Tomorrow
Shirelles
1
11
6
Rubber Ball
Bobby Vee
1
9
7
Angel Baby
Rosie & The Originals
2
6
8
North To Alaska
Johnny Horton
7
10
9
Corinna, Corinna
Ray Peterson
3
8
10
You're Sixteen
Johnny Burnnette
4
JANUARY 16, 1961
LAST
THIS
WEEK
WEEK
TITLE
ARTIST
T10
#1
1
1
Wonderland By Night (I)
Bert Kaempfert
6
2
2
2
Are You Lonesome Tonight
Elvis Presley
9
6
3
3
Exodus (I)
Ferrante & Teicher
6
5
4
(Will You Love Me) Tomorrow
Shirelles
2
13
5
Calcutta (I)
Lawrence Welk
1
7
6
Angel Baby
Rosie & The Originals
3
6
7
Rubber Ball
Bobby Vee
2
4
8
Last Date (I)
Floyd Cramer
10
9
9
Corinna, Corinna
Ray Peterson
4
8
10
North To Alaska
Johnny Horton
8
JANUARY 23, 1961
LAST
THIS
WEEK
WEEK
TITLE
ARTIST
T10
#1
1
1
Wonderland By Night (I)
Bert Kaempfert
7
3
3
2
Exodus (I)
Ferrante & Teicher
7
5
3
Calcutta (I)
Lawrence Welk
2
4
4
(Will You Love Me) Tomorrow
Shirelles
3
6
5
Angel Baby
Rosie & The Originals
4
2
6
Are You Lonesome Tonight
Elvis Presley
10
6
12
7
Shop Around
Miracles
1
14
8
Calendar Girl
Neil Sedaka
1
7
9
Rubber Ball
Bobby Vee
3
9
10
Corinna, Corinna
Ray Peterson
5
JANUARY 30, 1961
LAST
THIS
WEEK
WEEK
TITLE
ARTIST
T10
#1
4
1
(Will You Love Me) Tomorrow
Shirelles
4
1
3
2
Calcutta (I)
Lawrence Welk
3
2
3
Exodus (I)
Ferrante & Teicher
8
1
4
Wonderland By Night (I)
Bert Kaempfert
8
3
7
5
Shop Around
Miracles
2
5
6
Angel Baby
Rosie & The Originals
5
8
7
Calendar Girl
Neil Sedaka
2
13
8
Emotions
Brenda Lee
1
9
9
Rubber Ball
Bobby Vee
4
6
10
Are You Lonesome Tonight
Elvis Presley
11
6
FEBRUARY 6, 1961
LAST
THIS
WEEK
WEEK
TITLE
ARTIST
T10
#1
1
1
(Will You Love Me) Tomorrow
Shirelles
5
2
2
2
Calcutta (I)
Lawrence Welk
4
3
3
Exodus (I)
Ferrante & Teicher
9
5
4
Shop Around
Miracles
3
7
5
Calendar Girl
Neil Sedaka
3
4
6
Wonderland By Night (I)
Bert Kaempfert
9
3
6
7
Angel Baby
Rosie & The Originals
6
8
8
Emotions
Brenda Lee
2
15
9
My Empty Arms
Jackie Wilson
1
9
10
Rubber Ball
Bobby Vee
5
FEBRUARY 13, 1961
LAST
THIS
WEEK
WEEK
TITLE
ARTIST
T10
#1
2
1
Calcutta (I)
Lawrence Welk
5
1
1
2
(Will You Love Me) Tomorrow
Shirelles
6
2
4
3
Shop Around
Miracles
4
5
4
Calendar Girl
Neil Sedaka
4
3
5
Exodus (I)
Ferrante & Teicher
10
7
6
Angel Baby
Rosie & The Originals
7
8
7
Emotions
Brenda Lee
3
6
8
Wonderland By Night (I)
Bert Kaempfert
10
3
15
9
Pony Time
Chubby Checker
1
16
10
There's A Moon Out Tonight
Capris
1
FEBRUARY 20, 1961
LAST
THIS
WEEK
WEEK
TITLE
ARTIST
T10
#1
1
1
Calcutta (I)
Lawrence Welk
6
2
3
2
Shop Around
Miracles
5
2
3
(Will You Love Me) Tomorrow
Shirelles
7
2
9
4
Pony Time
Chubby Checker
2
10
5
There's A Moon Out Tonight
Capris
2
4
6
Calendar Girl
Neil Sedaka
5
7
7
Emotions
Brenda Lee
4
5
8
Exodus (I)
Ferrante & Teicher
11
13
9
Dedicated To The One I Love
Shirelles
1
15
10
Wheels (I)
String-A-Longs
1
FEBRUARY 27, 1961
LAST
THIS
WEEK
WEEK
TITLE
ARTIST
T10
#1
4
1
Pony Time
Chubby Checker
3
1
1
2
Calcutta (I)
Lawrence Welk
7
2
5
3
There's A Moon Out Tonight
Capris
3
24
4
Surrender
Elvis Presley
1
15
5
Don't Worry
Marty Robbins
1
9
6
Dedicated To The One I Love
Shirelles
2
11
7
Where The Boys Are
Connie Francis
1
2
8
Shop Around
Miracles
6
18
9
Ebony Eyes
Everly Brothers
1
10
10
Wheels (I)
String-A-Longs
2
MARCH 6, 1961
LAST
THIS
WEEK
WEEK
TITLE
ARTIST
T10
#1
1
1
Pony Time
Chubby Checker
4
2
4
2
Surrender
Elvis Presley
2
10
3
Wheels (I)
String-A-Longs
3
5
4
Don't Worry
Marty Robbins
2
7
5
Where The Boys Are
Connie Francis
2
2
6
Calcutta (I)
Lawrence Welk
8
2
12
7
Baby Sittin' Boogie
Buzz Clifford
1
6
8
Dedicated To The One I Love
Shirelles
3
3
9
There's A Moon Out Tonight
Capris
4
9
10
Ebony Eyes
Everly Brothers
2
MARCH 13, 1961
LAST
THIS
WEEK
WEEK
TITLE
ARTIST
T10
#1
1
1
Pony Time
Chubby Checker
5
3
2
2
Surrender
Elvis Presley
3
3
3
Wheels (I)
String-A-Longs
4
4
4
Don't Worry
Marty Robbins
3
5
5
Where The Boys Are
Connie Francis
3
7
6
Baby Sittin' Boogie
Buzz Clifford
2
8
7
Dedicated To The One I Love
Shirelles
4
6
8
Calcutta (I)
Lawrence Welk
9
2
10
9
Ebony Eyes
Everly Brothers
3
13
10
Spanish Harlem
Ben E. King
1
MARCH 20, 1961
LAST
THIS
WEEK
WEEK
TITLE
ARTIST
T10
#1
2
1
Surrender
Elvis Presley
4
1
1
2
Pony Time
Chubby Checker
6
3
4
3
Don't Worry
Marty Robbins
4
5
4
Where The Boys Are
Connie Francis
4
7
5
Dedicated To The One I Love
Shirelles
5
11
6
Apache (I)
Jorgen Ingmann
1
3
7
Wheels (I)
String-A-Longs
5
9
8
Ebony Eyes
Everly Brothers
4
13
9
Walk Right Back
Everly Brothers
1
6
10
Baby Sittin' Boogie
Buzz Clifford
3
MARCH 27, 1961
LAST
THIS
WEEK
WEEK
TITLE
ARTIST
T10
#1
1
1
Surrender
Elvis Presley
5
2
2
2
Pony Time
Chubby Checker
7
3
5
3
Dedicated To The One I Love
Shirelles
6
6
4
Apache (I)
Jorgen Ingmann
2
3
5
Don't Worry
Marty Robbins
5
21
6
Blue Moon
Marcels
1
9
7
Walk Right Back
Everly Brothers
2
7
8
Wheels
String-A-Longs
6
4
9
Where The Boys Are
Connie Francis
5
12
10
Gee Whiz
Carla Thomas
1
APRIL 3, 1961
LAST
THIS
WEEK
WEEK
TITLE
ARTIST
T10
#1
6
1
Blue Moon
Marcels
2
1
4
2
Apache (I)
Jorgen Ingmann
3
1
3
Surrender
Elvis Presley
6
2
2
4
Pony Time
Chubby Checker
8
3
3
5
Dedicated To The One I Love
Shirelles
7
5
6
Don't Worry
Marty Robbins
6
11
7
On The Rebound (I)
Floyd Cramer
1
7
8
Walk Right Back
Everly Brothers
3
21
9
Runaway
Del Shannon
1
17
10
But I Do
Clarence Henry
1
APRIL 10, 1961
LAST
THIS
WEEK
WEEK
TITLE
ARTIST
T10
#1
1
1
Blue Moon
Marcels
3
2
2
2
Apache (I)
Jorgen Ingmann
4
5
3
Dedicated To The One I Love
Shirelles
8
9
4
Runaway
Del Shannon
2
7
5
On The Rebound (I)
Floyd Cramer
2
10
6
But I Do
Clarence Henry
2
3
7
Surrender
Elvis Presley
7
2
6
8
Don't Worry
Marty Robbins
6
23
9
Mother In-Law
Ernie K. Doe
1
8
10
Walk Right Back
Everly Brothers
4
APRIL 17, 1961
LAST
THIS
WEEK
WEEK
TITLE
ARTIST
T10
#1
1
1
Blue Moon
Marcels
4
3
4
2
Runaway
Del Shannon
3
9
3
Mother In-Law
Ernie K. Doe
2
5
4
On The Rebound (I)
Floyd Cramer
3
6
5
But I Do
Clarence Henry
3
2
6
Apache (I)
Jorgen Ingmann
5
3
7
Dedicated To The One I Love
Shirelles
9
12
8
Asia Minor (I)
Kokomo
1
20
9
One Hundred Pounds Of Clay
Gene McDanels
1
7
10
Surrender
Elvis Presley
8
2
APRIL 24, 1961
LAST
THIS
WEEK
WEEK
TITLE
ARTIST
T10
#1
2
1
Runaway
Del Shannon
4
1
1
2
Blue Moon
Marcels
5
3
3
3
Mother In-Law
Ernie K. Doe
3
5
4
But I Do
Clarence Henry
4
4
5
On The Rebound (I)
Floyd Cramer
4
9
6
One Hundred Pounds Of Clay
Gene McDanels
2
18
7
I've Told Every Little Star
Linda Scott
1
16
8
You Can Depend On Me
Brenda Lee
1
11
9
Take Good Care Of Her
Adam Wade
1
14
10
One Mint Julep (I)
Ray Charles
1
MAY 1, 1961
LAST
THIS
WEEK
WEEK
TITLE
ARTIST
T10
#1
1
1
Runaway
Del Shannon
5
2
3
2
Mother In-Law
Ernie K. Doe
4
7
3
I've Told Every Little Star
Linda Scott
2
6
4
One Hundred Pounds Of Clay
Gene McDanels
3
2
5
Blue Moon
Marcels
6
3
4
6
But I Do
Clarence Henry
5
9
7
Take Good Care Of Her
Adam Wade
2
10
8
One Mint Julep (I)
Ray Charles
2
8
9
You Can Depend On Me
Brenda Lee
2
5
10
On The Rebound (I)
Floyd Cramer
5
MAY 8, 1961
LAST
THIS
WEEK
WEEK
TITLE
ARTIST
T10
#1
1
1
Runaway
Del Shannon
6
3
2
2
Mother In-Law
Ernie K. Doe
5
4
3
One Hundred Pounds Of Clay
Gene McDanels
4
3
4
I've Told Every Little Star
Linda Scott
3
5
5
Blue Moon
Marcels
7
3
9
6
You Can Depend On Me
Brenda Lee
3
7
7
Take Good Care Of Her
Adam Wade
3
8
8
One Mint Julep (I)
Ray Charles
3
11
9
Portrait Of My Love
Steve Lawrence
1
10
10
On The Rebound (I)
Floyd Cramer
6
MAY 15, 1961
LAST
THIS
WEEK
WEEK
TITLE
ARTIST
T10
#1
1
1
Runaway
Del Shannon
7
4
2
2
Mother In-Law
Ernie K. Doe
6
3
3
One Hundred Pounds Of Clay
Gene McDanels
5
4
4
I've Told Every Little Star
Linda Scott
4
12
5
Daddy's Home
Shep & The Limelites
1
6
6
You Can Depend On Me
Brenda Lee
4
5
7
Blue Moon
Marcels
8
3
18
8
Travelin Man
Ricky Nelson
1
14
9
Mama Said
Shirelles
1
7
10
Take Good Care Of Her
Adam Wade
4
MAY 22, 1961
LAST
THIS
WEEK
WEEK
TITLE
ARTIST
T10
#1
2
1
Mother In-Law
Ernie K. Doe
7
1
1
2
Runaway
Del Shannon
8
4
5
3
Daddy's Home
Shep & The Limelites
2
3
4
One Hundred Pounds Of Clay
Gene McDanels
6
8
5
Travelin Man
Ricky Nelson
2
9
6
Mama Said
Shirelles
2
16
7
Running Scared
Roy Orbison
1
11
8
Breakin' In A Brand New Broken Heart
Connie Francis
1
15
9
Hello Mary Lou
Ricky Nelson
1
4
10
I've Told Every Little Star
Linda Scott
5
MAY 29, 1961
LAST
THIS
WEEK
WEEK
TITLE
ARTIST
T10
#1
5
1
Travelin Man
Ricky Nelson
3
1
3
2
Daddy's Home
Shep & The Limelites
3
7
3
Running Scared
Roy Orbison
2
6
4
Mama Said
Shirelles
3
1
5
Mother In-Law
Ernie K. Doe
8
1
2
6
Runaway
Del Shannon
9
4
8
7
Breakin' In A Brand New Broken Heart
Connie Francis
2
4
8
One Hundred Pounds Of Clay
Gene McDanels
7
17
9
I Feel So Bad
Elvis Presley
1
16
10
Tragedy
Fleetwoods
1
JUNE 5, 1961
LAST
THIS
WEEK
WEEK
TITLE
ARTIST
T10
#1
3
1
Running Scared
Roy Orbison
3
1
1
2
Travelin Man
Ricky Nelson
4
1
2
3
Daddy's Home
Shep & The Limelites
4
4
4
Mama Said
Shirelles
4
9
5
I Feel So Bad
Elvis Presley
2
13
6
Stand By Me
Ben E. King
1
14
7
Moody River
Pat Boone
1
8
8
One Hundred Pounds Of Clay
Gene McDanels
8
15
9
Raindrops
Dee Clark
1
7
10
Breakin' In A Brand New Broken Heart
Connie Francis
3
JUNE 12, 1961
LAST
THIS
WEEK
WEEK
TITLE
ARTIST
T10
#1
2
1
Travelin Man
Ricky Nelson
5
2
7
2
Moody River
Pat Boone
2
1
3
Running Scared
Roy Orbison
4
1
6
4
Stand By Me
Ben E. King
2
9
5
Raindrops
Dee Clark
2
18
6
The Writing On The Wall
Adam Wade
1
5
7
I Feel So Bad
Elvis Presley
3
21
8
Every Beat Of My Heart
Pips
1
33
9
Quarter To Three
Gary U.S. Bonds
1
26
10
Boll Weevil Song
Brook Benton
1
JUNE 19, 1961
LAST
THIS
WEEK
WEEK
TITLE
ARTIST
T10
#1
2
1
Moody River
Pat Boone
3
1
1
2
Travelin Man
Ricky Nelson
6
2
9
3
Quarter To Three
Gary U.S. Bonds
2
4
4
Stand By Me
Ben E. King
3
5
5
Raindrops
Dee Clark
3
6
6
The Writing On The Wall
Adam Wade
2
17
7
Tossin' And Turnin'
Bobby Lewis
1
8
8
Every Beat Of My Heart
Pips
2
10
9
Boll Weevil Song
Brook Benton
2
11
10
Those Oldies But Goodies
Little Cesear & The Romans
1
JUNE 26, 1961
LAST
THIS
WEEK
WEEK
TITLE
ARTIST
T10
#1
3
1
Quarter To Three
Gary U.S. Bonds
3
1
5
2
Raindrops
Dee Clark
4
1
3
Moody River
Pat Boone
4
1
7
4
Tossin' And Turnin'
Bobby Lewis
2
2
5
Travelin Man
Ricky Nelson
7
2
6
6
The Writing On The Wall
Adam Wade
3
9
7
Boll Weevil Song
Brook Benton
3
8
8
Every Beat Of My Heart
Pips
3
10
9
Those Oldies But Goodies
Little Cesear & The Romans
2
4
10
Stand By Me
Ben E. King
4
JULY 3, 1961
LAST
THIS
WEEK
WEEK
TITLE
ARTIST
T10
#1
1
1
Quarter To Three
Gary U.S. Bonds
4
2
4
2
Tossin' And Turnin'
Bobby Lewis
3
7
3
Boll Weevil Song
Brook Benton
4
2
4
Raindrops
Dee Clark
5
6
5
The Writing On The Wall
Adam Wade
4
3
6
Moody River
Pat Boone
5
1
5
7
Travelin Man
Ricky Nelson
8
2
8
8
Every Beat Of My Heart
Pips
4
9
9
Those Oldies But Goodies
Little Cesear & The Romans
3
11
10
Yellow Bird (I)
Arthur Lyman
1
JULY 10, 1961
LAST
THIS
WEEK
WEEK
TITLE
ARTIST
T10
#1
2
1
Tossin' And Turnin'
Bobby Lewis
4
1
3
2
Boll Weevil Song
Brook Benton
5
1
3
Quarter To Three
Gary U.S. Bonds
5
2
4
4
Raindrops
Dee Clark
6
5
5
The Writing On The Wall
Adam Wade
5
8
6
Every Beat Of My Heart
Pips
5
6
7
Moody River
Pat Boone
6
1
10
8
Yellow Bird (I)
Arthur Lyman
2
13
9
Hats Off To Larry
Del Shannon
1
12
10
Dance On Little Girl
Paul Anka
1
JULY 17, 1961
LAST
THIS
WEEK
WEEK
TITLE
ARTIST
T10
#1
1
1
Tossin' And Turnin'
Bobby Lewis
5
2
2
2
Boll Weevil Song
Brook Benton
6
3
3
Quarter To Three
Gary U.S. Bonds
6
2
4
4
Raindrops
Dee Clark
7
8
5
Yellow Bird (I)
Arthur Lyman
3
9
6
Hats Off To Larry
Del Shannon
2
6
7
Every Beat Of My Heart
Pips
6
11
8
San Antiono Rose (I)
Floyd Cramer
1
14
9
I Like It Like That
Chris Kenner
1
13
10
Dum Dum
Brenda Lee
1
JULY 24, 1961
LAST
THIS
WEEK
WEEK
TITLE
ARTIST
T10
#1
1
1
Tossin' And Turnin'
Bobby Lewis
6
3
2
2
Boll Weevil Song
Brook Benton
7
3
3
Quarter To Three
Gary U.S. Bonds
7
2
5
4
Yellow Bird (I)
Arthur Lyman
4
9
5
I Like It Like That
Chris Kenner
2
6
6
Hats Off To Larry
Del Shannon
3
4
7
Raindrops
Dee Clark
8
10
8
Dum Dum
Brenda Lee
2
14
9
Together
Connie Francis
1
15
10
Let's Twist Again
Chubby Checker
1
JULY 31, 1961
LAST
THIS
WEEK
WEEK
TITLE
ARTIST
T10
#1
1
1
Tossin' And Turnin'
Bobby Lewis
7
4
5
2
I Like It Like That
Chris Kenner
3
2
3
Boll Weevil Song
Brook Benton
8
8
4
Dum Dum
Brenda Lee
2
6
5
Hats Off To Larry
Del Shannon
4
3
6
Quarter To Three
Gary U.S. Bonds
8
2
12
7
Last Night (I)
Mar-Keys
1
9
8
Together
Connie Francis
2
10
9
Let's Twist Again
Chubby Checker
2
4
10
Yellow Bird (I)
Arthur Lyman
5
AUGUST 7, 1961
LAST
THIS
WEEK
WEEK
TITLE
ARTIST
T10
#1
1
1
Tossin' And Turnin'
Bobby Lewis
8
5
2
2
I Like It Like That
Chris Kenner
4
7
3
Last Night (I)
Mar-Keys
2
4
4
Dum Dum
Brenda Lee
4
5
5
Hats Off To Larry
Del Shannon
5
8
6
Together
Connie Francis
3
16
7
Pretty Little Angel Eyes
Curtis Lee
1
9
8
Let's Twist Again
Chubby Checker
3
13
9
Wooden Heart
Joe Dowell
1
23
10
Michael
Highwaymen
1
AUGUST 14, 1961
LAST
THIS
WEEK
WEEK
TITLE
ARTIST
T10
#1
1
1
Tossin' And Turnin'
Bobby Lewis
9
6
2
2
I Like It Like That
Chris Kenner
5
3
3
Last Night (I)
Mar-Keys
3
4
4
Dum Dum
Brenda Lee
5
9
5
Wooden Heart
Joe Dowell
2
10
6
Michael
Highwaymen
2
7
7
Pretty Little Angel Eyes
Curtis Lee
2
8
8
Let's Twist Again
Chubby Checker
4
6
9
Together
Connie Francis
4
16
10
School Is Out
Gary U.S. Bonds
1
AUGUST 21, 1961
LAST
THIS
WEEK
WEEK
TITLE
ARTIST
T10
#1
1
1
Tossin' And Turnin'
Bobby Lewis
10
7
5
2
Wooden Heart
Joe Dowell
3
6
3
Michael
Highwaymen
3
3
4
Last Night (I)
Mar-Keys
4
2
5
I Like It Like That
Chris Kenner
6
11
6
You Don't Know What You've Got
Ral Donner
1
7
7
Pretty Little Angel Eyes
Curtis Lee
3
4
8
Dum Dum
Brenda Lee
6
8
9
Let's Twist Again
Chubby Checker
5
10
10
School Is Out
Gary U.S. Bonds
2
AUGUST 28, 1961
LAST
THIS
WEEK
WEEK
TITLE
ARTIST
T10
#1
2
1
Wooden Heart
Joe Dowell
4
1
1
2
Tossin' And Turnin'
Bobby Lewis
11
7
3
3
Michael
Highwaymen
4
4
4
Last Night (I)
Mar-Keys
5
6
5
You Don't Know What You've Got
Ral Donner
2
5
6
I Like It Like That
Chris Kenner
7
10
7
School Is Out
Gary U.S. Bonds
3
7
8
Pretty Little Angel Eyes
Curtis Lee
4
11
9
Don't Bet Money Honey
Linda Scott
1
12
10
Hurt
Tami Yuro
1
SEPTEMBER 4, 1961
LAST
THIS
WEEK
WEEK
TITLE
ARTIST
T10
#1
3
1
Michael
Highwaymen
5
1
1
2
Wooden Heart
Joe Dowell
5
1
2
3
Tossin' And Turnin'
Bobby Lewis
12
7
5
4
You Don't Know What You've Got
Ral Donner
3
7
5
School Is Out
Gary U.S. Bonds
4
23
6
Take Good Care Of My Baby
Bobby Vee
1
13
7
My True Story
Jive Five
1
10
8
Hurt
Tami Yuro
2
9
9
Don't Bet Money Honey
Linda Scott
2
11
10
As If I Didn't Know
Adam Wade
1
SEPTEMBER 11, 1961
LAST
THIS
WEEK
WEEK
TITLE
ARTIST
T10
#1
1
1
Michael
Highwaymen
6
2
6
2
Take Good Care Of My Baby
Bobby Vee
2
7
3
My True Story
Jive Five
2
8
4
Hurt
Tami Yuro
3
4
5
You Don't Know What You've Got
Ral Donner
4
2
6
Wooden Heart
Joe Dowell
6
1
11
7
Does Your Chewing Gum Loose It Flavor
Lonnie Donegan
1
14
8
Who Put The Bomp
Barry Mann
1
15
9
Little Sister
Elvis Presley
1
10
10
As If I Didn't Know
Adam Wade
2
SEPTEMBER 18, 1961
LAST
THIS
WEEK
WEEK
TITLE
ARTIST
T10
#1
2
1
Take Good Care Of My Baby
Bobby Vee
3
1
1
2
Michael
Highwaymen
7
2
3
3
My True Story
Jive Five
3
22
4
(Marie's The Name) His Latest Flame
Elvis Presley
1
11
5
Crying'
Roy Orbison
1
7
6
Does Your Chewing Gum Loose It Flavor
Lonnie Donegan
2
14
7
Without You
Johnny Tillotson
1
6
8
Wooden Heart
Joe Dowell
7
1
29
9
One Track Mind
Bobby Lewis
1
13
10
When We Get Married
Dreamlovers
1
SEPTEMBER 25, 1961
LAST
THIS
WEEK
WEEK
TITLE
ARTIST
T10
#1
1
1
Take Good Care Of My Baby
Bobby Vee
4
2
15
2
The Mountain's High
Dick & Dee Dee
1
2
3
Michael
Highwaymen
8
2
5
4
Crying'
Roy Orbison
2
6
5
Does Your Chewing Gum Loose It Flavor
Lonnie Donegan
3
13
6
Little Sister
Elvis Presley
2
17
7
Who Put The Bomp
Barry Mann
2
3
8
My True Story
Jive Five
4
7
9
Without You
Johnny Tillotson
2
4
10
(Marie's The Name) His Latest Flame
Elvis Presley
2
OCTOBER 2, 1961
LAST
THIS
WEEK
WEEK
TITLE
ARTIST
T10
#1
1
1
Take Good Care Of My Baby
Bobby Vee
5
3
2
2
The Mountain's High
Dick & Dee Dee
2
4
3
Crying'
Roy Orbison
3
13
4
Hit The Road Jack
Ray Charles
1
6
5
Little Sister
Elvis Presley
3
3
6
Michael
Highwaymen
9
2
12
7
Mexico (I)
Bob Moore
1
16
8
You Must Have Been A Beautiful Baby
Bobby Darin
1
5
9
Does Your Chewing Gum Loose It Flavor
Lonnie Donegan
4
14
10
Bristol Stomp
Dovells
1
OCTOBER 9, 1961
LAST
THIS
WEEK
WEEK
TITLE
ARTIST
T10
#1
4
1
Hit The Road Jack
Ray Charles
2
1
3
2
Crying'
Roy Orbison
4
1
3
Take Good Care Of My Baby
Bobby Vee
6
3
21
4
Runaround Sue
Dion
1
10
5
Bristol Stomp
Dovells
2
8
6
You Must Have Been A Beautiful Baby
Bobby Darin
2
2
7
The Mountain's High
Dick & Dee Dee
3
5
8
Little Sister
Elvis Presley
4
15
9
Let's Get Together
Hayley Mills
1
7
10
Mexico (I)
Bob Moore
2
OCTOBER 16, 1961
LAST
THIS
WEEK
WEEK
TITLE
ARTIST
T10
#1
1
1
Hit The Road Jack
Ray Charles
3
2
4
2
Runaround Sue
Dion
2
5
3
Bristol Stomp
Dovells
3
2
4
Crying'
Roy Orbison
5
6
5
You Must Have Been A Beautiful Baby
Bobby Darin
3
3
6
Take Good Care Of My Baby
Bobby Vee
7
3
18
7
Sad Movies
Sue Thompson
1
17
8
Big Bad John
Jimmy Dean
1
10
9
Mexico (I)
Bob Moore
3
14
10
Ya Ya
Lee Dorsey
1
OCTOBER 23, 1961
LAST
THIS
WEEK
WEEK
TITLE
ARTIST
T10
#1
2
1
Runaround Sue
Dion
3
1
3
2
Bristol Stomp
Dovells
4
8
3
Big Bad John
Jimmy Dean
2
1
4
Hit The Road Jack
Ray Charles
4
2
7
5
Sad Movies
Sue Thompson
2
11
6
This Time
Troy Shondell
1
12
7
I Love How You Love Me
Paris Sisters
1
13
8
Let's Get Together
Hayley Mills
2
10
9
Ya Ya
Lee Dorsey
2
14
10
The Fly
Chubby Checker
1
OCTOBER 30, 1961
LAST
THIS
WEEK
WEEK
TITLE
ARTIST
T10
#1
1
1
Runaround Sue
Dion
3
2
2
2
Bristol Stomp
Dovells
5
3
3
Big Bad John
Jimmy Dean
3
4
4
Hit The Road Jack
Ray Charles
5
2
7
5
I Love How You Love Me
Paris Sisters
2
5
6
Sad Movies
Sue Thompson
3
9
7
Ya Ya
Lee Dorsey
3
8
8
Let's Get Together
Hayley Mills
3
10
9
The Fly
Chubby Checker
2
6
10
This Time
Troy Shondell
2
NOVEMBER 6, 1961
LAST
THIS
WEEK
WEEK
TITLE
ARTIST
T10
#1
3
1
Big Bad John
Jimmy Dean
4
1
1
2
Runaround Sue
Dion
4
2
2
3
Bristol Stomp
Dovells
6
4
4
Hit The Road Jack
Ray Charles
6
2
17
5
Fool #1
Brenda Lee
1
6
6
Sad Movies
Sue Thompson
4
10
7
This Time
Troy Shondell
3
9
8
The Fly
Chubby Checker
3
5
9
I Love How You Love Me
Paris Sisters
3
11
10
Tower Of Strength
Gene McDaniels
1
NOVEMBER 13, 1961
LAST
THIS
WEEK
WEEK
TITLE
ARTIST
T10
#1
1
1
Big Bad John
Jimmy Dean
5
2
2
2
Runaround Sue
Dion
5
2
5
3
Fool #1
Brenda Lee
2
3
4
Bristol Stomp
Dovells
7
10
5
Tower Of Strength
Gene McDaniels
2
4
6
Hit The Road Jack
Ray Charles
7
2
8
7
The Fly
Chubby Checker
4
7
8
This Time
Troy Shondell
4
17
9
Please Mr. Postman
Marvelettes
1
6
10
Sad Movies
Sue Thompson
5
NOVEMBER 20, 1961
LAST
THIS
WEEK
WEEK
TITLE
ARTIST
T10
#1
1
1
Big Bad John
Jimmy Dean
6
3
2
2
Runaround Sue
Dion
6
2
3
3
Fool #1
Brenda Lee
3
12
4
Goodbye Cruel World
James Darren
1
4
5
Bristol Stomp
Dovells
8
5
6
Tower Of Strength
Gene McDaniels
3
6
7
Hit The Road Jack
Ray Charles
8
2
9
8
Please Mr. Postman
Marvelettes
2
8
9
This Time
Troy Shondell
5
7
10
The Fly
Chubby Checker
5
NOVEMBER 27, 1961
LAST
THIS
WEEK
WEEK
TITLE
ARTIST
T10
#1
1
1
Big Bad John
Jimmy Dean
7
4
2
2
Runaround Sue
Dion
7
2
8
3
Please Mr. Postman
Marvelettes
3
4
4
Goodbye Cruel World
James Darren
2
3
5
Fool #1
Brenda Lee
4
5
6
Bristol Stomp
Dovells
9
19
7
Heartaches
Marcels
1
6
8
Tower Of Strength
Gene McDaniels
4
15
9
Crazy
Patsy Cline
1
9
10
This Time
Troy Shondell
6
DECEMBER 4, 1961
LAST
THIS
WEEK
WEEK
TITLE
ARTIST
T10
#1
1
1
Big Bad John
Jimmy Dean
8
5
3
2
Please Mr. Postman
Marvelettes
4
4
3
Goodbye Cruel World
James Darren
3
2
4
Runaround Sue
Dion
8
2
5
5
Fool #1
Brenda Lee
5
16
6
The Twist
Chubby Checker
1
12
7
Walk On By
Leroy Van Dyke
1
8
8
Tower Of Strength
Gene McDaniels
5
14
9
I Understand
G-Cleffs
1
9
10
Crazy
Patsy Cline
2
DECEMBER 11, 1961
LAST
THIS
WEEK
WEEK
TITLE
ARTIST
T10
#1
2
1
Please Mr. Postman
Marvelettes
5
1
1
2
Big Bad John
Jimmy Dean
9
5
3
3
Goodbye Cruel World
James Darren
4
6
4
The Twist
Chubby Checker
2
7
5
Walk On By
Leroy Van Dyke
2
17
6
The Lion Sleeps Tonight
Tokens
1
11
7
Run To Him
Bobby Vee
1
12
8
Tonight
Ferrante & Teicher
1
16
9
Let There Be Drums (I)
Sandy Nelson
1
21
10
Happy Birthday, Sweet Sixteen
Neil Sedaka
1
DECEMBER 18, 1961
LAST
THIS
WEEK
WEEK
TITLE
ARTIST
T10
#1
6
1
The Lion Sleeps Tonight
Tokens
2
1
1
2
Please Mr. Postman
Marvelettes
6
1
7
3
Run To Him
Bobby Vee
2
4
4
The Twist
Chubby Checker
3
5
5
Walk On By
Leroy Van Dyke
3
3
6
Goodbye Cruel World
James Darren
5
9
7
Let There Be Drums (I)
Sandy Nelson
2
10
8
Happy Birthday, Sweet Sixteen
Neil Sedaka
2
2
9
Big Bad John
Jimmy Dean
10
5
15
10
Peppermint Twist
Joey Dee & The Startliters
1
DECEMBER 25, 1961
LAST
THIS
WEEK
WEEK
TITLE
ARTIST
T10
#1
1
1
The Lion Sleeps Tonight
Tokens
3
2
3
2
Run To Him
Bobby Vee
3
4
3
The Twist
Chubby Checker
4
6
4
Goodbye Cruel World
James Darren
6
5
5
Walk On By
Leroy Van Dyke
4
10
6
Peppermint Twist
Joey Dee & The Startliters
2
2
7
Please Mr. Postman
Marvelettes
7
1
8
8
Happy Birthday, Sweet Sixteen
Neil Sedaka
3
7
9
Let There Be Drums (I)
Sandy Nelson
3
18
10
Can't Help Falling In Love
Elvis Presley
1
Go back to the top 100 songs of all time home page.
Back to Top…