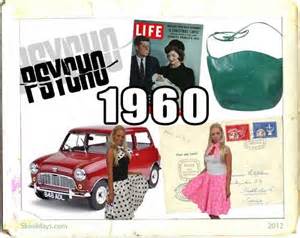 Top Ten Charts 1960
The top ten charts 1960 will provide you with information about how the songs on the Hot 100 chart progressed each week. You can track the progress of your favorite song. This is how it was in the year of 1960:
In politics, John F. Kennedy defeated Vice President Richard Nixon in one of the closest elections of the century, to become president-elect.
American U-2 spy plane pilot Francis Gary Powers was shot down and captured in Russia.
There are 900 US military advisors in South Vietnam.
In sports, the Pittsburg Pirates defeat New York Yankees 4 games to 3 with a dramatic walk-off homerun in game seven by Bill Mazeroski.
Ninety percent of the U.S. homes have a television set.
In science, the first working laser if built by T. H. Maiman.
In Television, the series "Gunsmoke" is the most popular for the 4th year in a row.
In music, "The Theme From A Summer Place" by Percy Faith becomes the record of the year. In 1960, there were 19 #1 songs, and 601 songs to chart on the Hot 100. The "Twist" becomes the new dance craze for Americans.
The top ten charts of 1960 will track week by week the changes in the rankings of the ten most popular songs. The chart will have the following information:
Last Week (previous week's ranking)
This Week (current ranking)
Title
Artist
Weeks in the top ten
Weeks at number one
JANUARY 4, 1960
Hot 100
LAST
THIS
WEEK
WEEK
TITLE
ARTIST
T10
#1
2
1
El Paso
Marty Robbins
3
1
1
2
Why
Frankie Avalon
4
1
3
3
The Big Hurt
Toni Fisher
4
11
4
Running Bear
Johnny Preston
1
5
5
Way Down Yonder In New Orleans
Freddy Cannon
3
6
6
Heartaches By The Number
Guy Mitchell
9
2
4
7
It's Time To Cry
Paul Anka
4
7
8
Among My Souvenirs
Connie Francis
3
10
9
Pretty Blue Eyes
Steve Lawrence
2
19
10
Go, Jimmy Go
Jimmy Clanton
1
JANUARY 11, 1960
Hot 100
LAST
THIS
WEEK
WEEK
TITLE
ARTIST
T10
#1
1
1
El Paso
Marty Robbins
4
2
2
2
Why
Frankie Avalon
5
1
5
3
Way Down Yonder In New Orleans
Freddy Cannon
4
4
4
Running Bear
Johnny Preston
2
3
5
The Big Hurt
Toni Fisher
5
7
6
It's Time To Cry
Paul Anka
5
10
7
Go, Jimmy Go
Jimmy Clanton
2
8
8
Among My Souvenirs
Connie Francis
4
9
9
Pretty Blue Eyes
Steve Lawrence
3
6
10
Heartaches By The Number
Guy Mitchell
10
2
JANUARY 18, 1960
Hot 100
LAST
THIS
WEEK
WEEK
TITLE
ARTIST
T10
#1
4
1
Running Bear
Johnny Preston
3
1
2
2
Why
Frankie Avalon
6
1
1
3
El Paso
Marty Robbins
5
2
5
4
The Big Hurt
Toni Fisher
6
3
5
Way Down Yonder In New Orleans
Freddy Cannon
5
7
6
Go, Jimmy Go
Jimmy Clanton
3
14
7
Teen Angel
Mark Dinning
1
12
8
Village Of St. Bernadette
Andy Williams
1
9
9
Pretty Blue Eyes
Steve Lawrence
4
8
10
Among My Souvenirs
Connie Francis
5
JANUARY 25, 1960
Hot 100
LAST
THIS
WEEK
WEEK
TITLE
ARTIST
T10
#1
1
1
Running Bear
Johnny Preston
4
2
3
2
El Paso
Marty Robbins
6
2
2
3
Why
Frankie Avalon
7
1
7
4
Teen Angel
Mark Dinning
2
5
5
Way Down Yonder In New Orleans
Freddy Cannon
6
4
6
The Big Hurt
Toni Fisher
7
8
7
Village Of St. Bernadette
Andy Williams
2
6
8
Go, Jimmy Go
Jimmy Clanton
4
9
9
Pretty Blue Eyes
Steve Lawrence
5
13
10
Where Or When
Dion & The Belmonts
1
FEBRUARY 1, 1960
Hot 100
LAST
THIS
WEEK
WEEK
TITLE
ARTIST
T10
#1
1
1
Running Bear
Johnny Preston
5
3
4
2
Teen Angel
Mark Dinning
3
2
3
El Paso
Marty Robbins
7
2
10
4
Where Or When
Dion & The Belmonts
2
8
5
Go, Jimmy Go
Jimmy Clanton
5
3
6
Why
Frankie Avalon
8
1
14
7
Handy Man
Jimmy Jones
1
6
8
The Big Hurt
Toni Fisher
8
5
9
Way Down Yonder In New Orleans
Freddy Cannon
7
9
10
Pretty Blue Eyes
Steve Lawrence
6
FEBRUARY 8, 1960
Hot 100
LAST
THIS
WEEK
WEEK
TITLE
ARTIST
T10
#1
2
1
Teen Angel
Mark Dinning
4
1
1
2
Running Bear
Johnny Preston
6
3
4
3
Where Or When
Dion & The Belmonts
3
3
4
El Paso
Marty Robbins
8
2
7
5
Handy Man
Jimmy Jones
2
14
6
Lonely Blue Boy
Conway Twitty
1
12
7
What In The World's Come Over You
Jack Scott
1
17
8
He'll Have To Go
Jim Reeves
1
6
9
Why
Frankie Avalon
9
1
13
10
You Got What It Takes
Marv Johnson
1
FEBRUARY 15, 1960
Hot 100
LAST
THIS
WEEK
WEEK
TITLE
ARTIST
T10
#1
1
1
Teen Angel
Mark Dinning
5
2
2
2
Running Bear
Johnny Preston
7
3
5
3
Handy Man
Jimmy Jones
3
8
4
He'll Have To Go
Jim Reeves
2
3
5
Where Or When
Dion & The Belmonts
4
12
6
Theme From A Summer Place (I)
Percy Faith
1
7
7
What In The World's Come Over You
Jack Scott
2
6
8
Lonely Blue Boy
Conway Twitty
2
13
9
Let It Be Me
The Everly Brothers
1
4
10
El Paso
Marty Robbins
9
2
FEBRUARY 22, 1960
Hot 100
LAST
THIS
WEEK
WEEK
TITLE
ARTIST
T10
#1
6
1
Theme From A Summer Place (I)
Percy Faith
2
1
1
2
Teen Angel
Mark Dinning
6
2
3
3
Handy Man
Jimmy Jones
4
4
4
He'll Have To Go
Jim Reeves
3
7
5
What In The World's Come Over You
Jack Scott
3
2
6
Running Bear
Johnny Preston
8
3
9
7
Let It Be Me
The Everly Brothers
2
11
8
Beyond The Sea
Bobby Darin
1
8
9
Lonely Blue Boy
Conway Twitty
3
5
10
Where Or When
Dion & The Belmonts
5
FEBRUARY 29, 1960
Hot 100
LAST
THIS
WEEK
WEEK
TITLE
ARTIST
T10
#1
1
1
Theme From A Summer Place (I)
Percy Faith
3
2
3
2
Handy Man
Jimmy Jones
5
4
3
He'll Have To Go
Jim Reeves
4
2
4
Teen Angel
Mark Dinning
7
2
5
5
What In The World's Come Over You
Jack Scott
4
8
6
Beyond The Sea
Bobby Darin
2
6
7
Running Bear
Johnny Preston
9
3
7
8
Let It Be Me
The Everly Brothers
3
12
9
Baby
Brook Benton & Dinah Washington
1
11
10
Wild One
Bobby Rydell
1
MARCH 7, 1960
Hot 100
LAST
THIS
WEEK
WEEK
TITLE
ARTIST
T10
#1
1
1
Theme From A Summer Place (I)
Percy Faith
4
3
3
2
He'll Have To Go
Jim Reeves
5
2
3
Handy Man
Jimmy Jones
6
10
4
Wild One
Bobby Rydell
2
5
5
What In The World's Come Over You
Jack Scott
5
4
6
Teen Angel
Mark Dinning
8
2
6
7
Beyond The Sea
Bobby Darin
3
9
8
Baby
Brook Benton & Dinah Washington
2
8
9
Let It Be Me
The Everly Brothers
4
7
10
Running Bear
Johnny Preston
10
3
MARCH 14, 1960
Hot 100
LAST
THIS
WEEK
WEEK
TITLE
ARTIST
T10
#1
1
1
Theme From A Summer Place (I)
Percy Faith
5
4
2
2
He'll Have To Go
Jim Reeves
6
4
3
Wild One
Bobby Rydell
3
3
4
Handy Man
Jimmy Jones
7
5
5
What In The World's Come Over You
Jack Scott
6
8
6
Baby
Brook Benton & Dinah Washington
3
6
7
Teen Angel
Mark Dinning
9
2
7
8
Beyond The Sea
Bobby Darin
4
17
9
Puppy Love
Paul Anka
1
12
10
Harbor Lights
The Platters
1
MARCH 21, 1960
Hot 100
LAST
THIS
WEEK
WEEK
TITLE
ARTIST
T10
#1
1
1
Theme From A Summer Place (I)
Percy Faith
6
5
2
2
He'll Have To Go
Jim Reeves
7
3
3
Wild One
Bobby Rydell
4
4
4
Handy Man
Jimmy Jones
8
6
5
Baby
Brook Benton & Dinah Washington
4
5
6
What In The World's Come Over You
Jack Scott
7
9
7
Puppy Love
Paul Anka
2
11
8
Sweet Nothin's
Brenda Lee
1
7
9
Teen Angel
Mark Dinning
10
2
10
10
Harbor Lights
The Platters
2
MARCH 28, 1960
Hot 100
LAST
THIS
WEEK
WEEK
TITLE
ARTIST
T10
#1
1
1
Theme From A Summer Place (I)
Percy Faith
7
6
3
2
Wild One
Bobby Rydell
5
2
3
He'll Have To Go
Jim Reeves
8
7
4
Puppy Love
Paul Anka
3
8
5
Sweet Nothin's
Brenda Lee
2
5
6
Baby
Brook Benton & Dinah Washington
5
4
7
Handy Man
Jimmy Jones
9
10
8
Harbor Lights
The Platters
3
12
9
Forever
Little Dippers
1
17
10
O, Dio Mio
Annette
1
APRIL 4, 1960
Hot 100
LAST
THIS
WEEK
WEEK
TITLE
ARTIST
T10
#1
1
1
Theme From A Summer Place (I)
Percy Faith
8
7
4
2
Puppy Love
Paul Anka
4
2
3
Wild One
Bobby Rydell
6
3
4
He'll Have To Go
Jim Reeves
9
5
5
Sweet Nothin's
Brenda Lee
3
14
6
Sink The Bismarck
Johnny Horton
1
25
7
Footsetps
Steve Lawrence
1
8
8
Harbor Lights
The Platters
4
11
9
Mama
Connie Francis
1
6
10
Baby
Brook Benton & Dinah Washington
6
APRIL 11, 1960
Hot 100
LAST
THIS
WEEK
WEEK
TITLE
ARTIST
T10
#1
1
1
Theme From A Summer Place (I)
Percy Faith
9
8
2
2
Puppy Love
Paul Anka
5
4
3
He'll Have To Go
Jim Reeves
10
3
4
Wild One
Bobby Rydell
7
12
5
Greenfields
Brothers Four
1
5
6
Sweet Nothin's
Brenda Lee
4
6
7
Sink The Bismarck
Johnny Horton
2
9
8
Mama
Connie Francis
2
14
9
I Love The Way You Love
Marv Johnson
1
7
10
Footsetps
Steve Lawrence
2
APRIL 18, 1960
Hot 100
LAST
THIS
WEEK
WEEK
TITLE
ARTIST
T10
#1
1
1
Theme From A Summer Place (I)
Percy Faith
10
9
5
2
Greenfields
Brothers Four
2
2
3
Puppy Love
Paul Anka
6
6
4
Sweet Nothin's
Brenda Lee
5
7
5
Sink The Bismarck
Johnny Horton
3
17
6
Stuck On You
Elvis Presley
1
4
7
Wild One
Bobby Rydell
8
3
8
He'll Have To Go
Jim Reeves
11
11
9
Sixteen Reasons
Connie Stevens
1
8
10
Mama
Connie Francis
3
APRIL 25, 1960
Hot 100
LAST
THIS
WEEK
WEEK
TITLE
ARTIST
T10
#1
6
1
Stuck On You
Elvis Presley
2
1
2
2
Greenfields
Brothers Four
3
5
3
Sink The Bismarck
Johnny Horton
4
1
4
Theme From A Summer Place (I)
Percy Faith
11
9
8
5
He'll Have To Go
Jim Reeves
12
9
6
Sixteen Reasons
Connie Stevens
2
3
7
Puppy Love
Paul Anka
7
16
8
The Old Lamplighter
The Browns
1
12
9
White Silver Sands (I)
Bill Black's Combo
1
4
10
Sweet Nothin's
Brenda Lee
6
MAY 2, 1960
Hot 100
LAST
THIS
WEEK
WEEK
TITLE
ARTIST
T10
#1
1
1
Stuck On You
Elvis Presley
3
2
2
2
Greenfields
Brothers Four
4
6
3
Sixteen Reasons
Connie Stevens
3
3
4
Sink The Bismarck
Johnny Horton
5
8
5
The Old Lamplighter
The Browns
2
13
6
Night
Jackie Wilson
1
12
7
Cradle Of Love
Johnny Preston
1
18
8
Let The Little Girl Dance
Billy Bland
1
4
9
Theme From A Summer Place (I)
Percy Faith
12
9
10
10
Sweet Nothin's
Brenda Lee
7
MAY 9, 1960
Hot 100
LAST
THIS
WEEK
WEEK
TITLE
ARTIST
T10
#1
1
1
Stuck On You
Elvis Presley
4
3
2
2
Greenfields
Brothers Four
5
15
3
Cathy's Clown
The Everly Brothers
1
6
4
Night
Jackie Wilson
2
3
5
Sixteen Reasons
Connie Stevens
4
4
6
Sink The Bismarck
Johnny Horton
6
5
7
The Old Lamplighter
The Browns
3
7
8
Cradle Of Love
Johnny Preston
2
11
9
Stairway To Heaven
Neil Sedaka
1
8
10
Let The Little Girl Dance
Billy Bland
2
MAY 16, 1960
Hot 100
LAST
THIS
WEEK
WEEK
TITLE
ARTIST
T10
#1
1
1
Stuck On You
Elvis Presley
5
4
3
2
Cathy's Clown
The Everly Brothers
2
2
3
Greenfields
Brothers Four
6
4
4
Night
Jackie Wilson
3
13
5
Good Timin'
Jimmy Jones
1
5
6
Sixteen Reasons
Connie Stevens
5
10
7
Let The Little Girl Dance
Billy Bland
3
8
8
Cradle Of Love
Johnny Preston
3
6
9
Sink The Bismarck
Johnny Horton
7
21
10
He'll Have To Stay
Jeanne Black
1
MAY 23, 1960
Hot 100
LAST
THIS
WEEK
WEEK
TITLE
ARTIST
T10
#1
2
1
Cathy's Clown
The Everly Brothers
3
1
1
2
Stuck On You
Elvis Presley
6
4
5
3
Good Timin'
Jimmy Jones
2
3
4
Greenfields
Brothers Four
7
4
5
Night
Jackie Wilson
4
6
6
Sixteen Reasons
Connie Stevens
6
8
7
Cradle Of Love
Johnny Preston
4
10
8
He'll Have To Stay
Jeanne Black
2
7
9
Let The Little Girl Dance
Billy Bland
4
12
10
Paper Roses
Anita Bryant
1
MAY 30, 1960
Hot 100
LAST
THIS
WEEK
WEEK
TITLE
ARTIST
T10
#1
1
1
Cathy's Clown
The Everly Brothers
4
2
2
2
Stuck On You
Elvis Presley
7
4
3
3
Good Timin'
Jimmy Jones
3
8
4
He'll Have To Stay
Jeanne Black
3
4
5
Greenfields
Brothers Four
8
5
6
Night
Jackie Wilson
5
10
7
Paper Roses
Anita Bryant
2
6
8
Sixteen Reasons
Connie Stevens
7
11
9
Burning Bridges
Jack Scott
1
7
10
Cradle Of Love
Johnny Preston
5
JUNE 6, 1960
Hot 100
LAST
THIS
WEEK
WEEK
TITLE
ARTIST
T10
#1
1
1
Cathy's Clown
The Everly Brothers
5
3
2
2
Stuck On You
Elvis Presley
8
4
3
3
Good Timin'
Jimmy Jones
4
4
4
He'll Have To Stay
Jeanne Black
4
9
5
Burning Bridges
Jack Scott
2
7
6
Paper Roses
Anita Bryant
3
6
7
Night
Jackie Wilson
6
20
8
Everybody's Somebody's Fool
Connie Francis
1
14
9
Love You So
Rod Holden
1
5
10
Greenfields
Brothers Four
9
JUNE 13, 1960
Hot 100
LAST
THIS
WEEK
WEEK
TITLE
ARTIST
T10
#1
1
1
Cathy's Clown
The Everly Brothers
6
4
8
2
Everybody's Somebody's Fool
Connie Francis
2
5
3
Burning Bridges
Jack Scott
3
3
4
Good Timin'
Jimmy Jones
5
6
5
Paper Roses
Anita Bryant
4
4
6
He'll Have To Stay
Jeanne Black
5
9
7
Love You So
Rod Holden
2
2
8
Stuck On You
Elvis Presley
9
4
13
9
Swinging School
Bobby Rydell
1
17
10
Happy-Go Lucky Me
Paul Evans
1
JUNE 20, 1960
Hot 100
LAST
THIS
WEEK
WEEK
TITLE
ARTIST
T10
#1
1
1
Cathy's Clown
The Everly Brothers
7
5
2
2
Everybody's Somebody's Fool
Connie Francis
3
3
3
Burning Bridges
Jack Scott
4
4
4
Good Timin'
Jimmy Jones
6
9
5
Swinging School
Bobby Rydell
2
12
6
Alley-Oop
Hollywood Argiles
1
5
7
Paper Roses
Anita Bryant
5
7
8
Love You So
Rod Holden
3
6
9
He'll Have To Stay
Jeanne Black
6
8
10
Stuck On You
Elvis Presley
10
4
JUNE 27, 1960
Hot 100
LAST
THIS
WEEK
WEEK
TITLE
ARTIST
T10
#1
2
1
Everybody's Somebody's Fool
Connie Francis
4
1
1
2
Cathy's Clown
The Everly Brothers
8
5
6
3
Alley-Oop
Hollywood Argiles
2
3
4
Burning Bridges
Jack Scott
5
11
5
Because They're Young (I)
Duane Eddy
1
14
6
I'm Sorry
Brenda Lee
1
13
7
A Rockin' Good Away
Dinah Washington & Brook Benton
1
7
8
Paper Roses
Anita Bryant
6
4
9
Good Timin'
Jimmy Jones
7
5
10
Swinging School
Bobby Rydell
3
JULY 4, 1960
Hot 100
LAST
THIS
WEEK
WEEK
TITLE
ARTIST
T10
#1
1
1
Everybody's Somebody's Fool
Connie Francis
5
2
3
2
Alley-Oop
Hollywood Argiles
3
6
3
I'm Sorry
Brenda Lee
2
5
4
Because They're Young (I)
Duane Eddy
2
2
5
Cathy's Clown
The Everly Brothers
9
5
17
6
That's All You Gotta Do
Brenda Lee
1
4
7
Burning Bridges
Jack Scott
6
11
8
My Home Town
Paul Anka
1
15
9
Mule Skinner Blues
Fendermen
1
7
10
A Rockin' Good Away
Dinah Washington & Brook Benton
2
JULY 11, 1960
Hot 100
LAST
THIS
WEEK
WEEK
TITLE
ARTIST
T10
#1
2
1
Alley-Oop
Hollywood Argiles
4
1
3
2
I'm Sorry
Brenda Lee
3
1
3
Everybody's Somebody's Fool
Connie Francis
6
2
4
4
Because They're Young (I)
Duane Eddy
3
9
5
Mule Skinner Blues
Fendermen
2
11
6
Only The Lonely
Roy Orbison
1
6
7
That's All You Gotta Do
Brenda Lee
2
8
8
My Home Town
Paul Anka
2
10
9
A Rockin' Good Away
Dinah Washington & Brook Benton
3
20
10
When Will I Be Loved
The Everly Brothers
1
JULY 18, 1960
Hot 100
LAST
THIS
WEEK
WEEK
TITLE
ARTIST
T10
#1
2
1
I'm Sorry
Brenda Lee
4
1
1
2
Alley-Oop
Hollywood Argiles
5
1
3
3
Everybody's Somebody's Fool
Connie Francis
7
2
6
4
Only The Lonely
Roy Orbison
2
4
5
Because They're Young (I)
Duane Eddy
4
7
6
That's All You Gotta Do
Brenda Lee
3
5
7
Mule Skinner Blues
Fendermen
3
10
8
When Will I Be Loved
The Everly Brothers
2
12
9
Tell Laura I Love Her
Ray Peterson
1
20
10
Itsy Bitsy Teenie Weenie Yellow Polka Dot Bikini
Brian Hyland
1
JULY 25, 1960
Hot 100
LAST
THIS
WEEK
WEEK
TITLE
ARTIST
T10
#1
1
1
I'm Sorry
Brenda Lee
5
2
4
2
Only The Lonely
Roy Orbison
3
2
3
Alley-Oop
Hollywood Argiles
6
1
3
4
Everybody's Somebody's Fool
Connie Francis
8
2
10
5
Itsy Bitsy Teenie Weenie Yellow Polka Dot Bikini
Brian Hyland
2
7
6
Mule Skinner Blues
Fendermen
4
14
7
Image Of A Girl
Safaris
1
9
8
Tell Laura I Love Her
Ray Peterson
2
15
9
Please Help Me I'm Falling
Hank Locklin
1
6
10
That's All You Gotta Do
Brenda Lee
4
AUGUST 1, 1960
Hot 100
LAST
THIS
WEEK
WEEK
TITLE
ARTIST
T10
#1
1
1
I'm Sorry
Brenda Lee
6
3
5
2
Itsy Bitsy Teenie Weenie Yellow Polka Dot Bikini
Brian Hyland
3
14
3
It's Now Or Never
Elvis Presley
1
2
4
Only The Lonely
Roy Orbison
4
3
5
Alley-Oop
Hollywood Argiles
7
1
7
6
Image Of A Girl
Safaris
2
8
7
Tell Laura I Love Her
Ray Peterson
3
9
8
Please Help Me I'm Falling
Hank Locklin
2
6
9
Mule Skinner Blues
Fendermen
5
10
10
That's All You Gotta Do
Brenda Lee
5
AUGUST 8, 1960
Hot 100
LAST
THIS
WEEK
WEEK
TITLE
ARTIST
T10
#1
2
1
Itsy Bitsy Teenie Weenie Yellow Polka Dot Bikini
Brian Hyland
4
1
1
2
I'm Sorry
Brenda Lee
7
3
3
3
It's Now Or Never
Elvis Presley
2
4
4
Only The Lonely
Roy Orbison
5
5
5
Alley-Oop
Hollywood Argiles
8
1
6
6
Image Of A Girl
Safaris
3
18
7
Walk, Don't Run (I)
Ventures
1
7
8
Tell Laura I Love Her
Ray Peterson
4
8
9
Please Help Me I'm Falling
Hank Locklin
3
13
10
Walkin' To New Orleans
Fats Domino
1
AUGUST 15, 1960
Hot 100
LAST
THIS
WEEK
WEEK
TITLE
ARTIST
T10
#1
3
1
It's Now Or Never
Elvis Presley
3
1
1
2
Itsy Bitsy Teenie Weenie Yellow Polka Dot Bikini
Brian Hyland
5
1
2
3
I'm Sorry
Brenda Lee
8
3
4
4
Only The Lonely
Roy Orbison
6
7
5
Walk, Don't Run (I)
Ventures
2
15
6
Finger Poppin' Time
Hank Ballard
1
11
7
Twist
Chubby Checker
1
8
9
Tell Laura I Love Her
Ray Peterson
5
6
10
Image Of A Girl
Safaris
4
AUGUST 22, 1960
Hot 100
LAST
THIS
WEEK
WEEK
TITLE
ARTIST
T10
#1
1
1
It's Now Or Never
Elvis Presley
4
2
2
2
Itsy Bitsy Teenie Weenie Yellow Polka Dot Bikini
Brian Hyland
6
1
5
3
Walk, Don't Run (I)
Ventures
3
8
4
Twist
Chubby Checker
2
3
5
I'm Sorry
Brenda Lee
9
3
4
6
Only The Lonely
Roy Orbison
7
11
7
Volare
Bobby Rydell
1
7
8
Finger Poppin' Time
Hank Ballard
2
12
9
Mission Bell
Donnie Brooks
1
10
10
Image Of A Girl
Safaris
5
AUGUST 29, 1960
Hot 100
LAST
THIS
WEEK
WEEK
TITLE
ARTIST
T10
#1
1
1
It's Now Or Never
Elvis Presley
5
3
3
2
Walk, Don't Run (I)
Ventures
4
4
3
Twist
Chubby Checker
3
5
4
I'm Sorry
Brenda Lee
10
3
7
5
Volare
Bobby Rydell
2
2
6
Itsy Bitsy Teenie Weenie Yellow Polka Dot Bikini
Brian Hyland
7
1
8
7
Finger Poppin' Time
Hank Ballard
3
9
8
Mission Bell
Donnie Brooks
2
6
9
Only The Lonely
Roy Orbison
8
14
10
My Little Corner Of The World
Anita Bryant
1
SEPTEMBER 5, 1960
Hot 100
LAST
THIS
WEEK
WEEK
TITLE
ARTIST
T10
#1
1
1
It's Now Or Never
Elvis Presley
6
4
3
2
Twist
Chubby Checker
4
2
3
Walk, Don't Run (I)
Ventures
5
5
4
Volare
Bobby Rydell
3
4
5
I'm Sorry
Brenda Lee
11
3
6
6
Itsy Bitsy Teenie Weenie Yellow Polka Dot Bikini
Brian Hyland
8
1
8
7
Mission Bell
Donnie Brooks
3
7
8
Finger Poppin' Time
Hank Ballard
4
16
9
My Heart Has A Mind Of Its Own
Connie Francis
1
12
10
Theme From The Apartment (I)
Ferrante & Teicher
1
SEPTEMBER 12, 1960
Hot 100
LAST
THIS
WEEK
WEEK
TITLE
ARTIST
T10
#1
1
1
It's Now Or Never
Elvis Presley
7
5
2
2
Twist
Chubby Checker
5
9
3
My Heart Has A Mind Of Its Own
Connie Francis
2
13
4
Mr. Custer
Larry Verne
1
3
5
Walk, Don't Run (I)
Ventures
6
22
6
Chain Gang
Sam Cooke
1
4
7
Volare
Bobby Rydell
4
17
8
Kiddio
Brook Brenton
1
14
9
Yogi
Ivy Three
1
7
10
Mission Bell
Donnie Brooks
4
SEPTEMBER 19, 1960
Hot 100
LAST
THIS
WEEK
WEEK
TITLE
ARTIST
T10
#1
2
1
Twist
Chubby Checker
6
1
3
2
My Heart Has A Mind Of Its Own
Connie Francis
3
1
3
It's Now Or Never
Elvis Presley
8
5
4
4
Mr. Custer
Larry Verne
2
6
5
Chain Gang
Sam Cooke
2
5
6
Walk, Don't Run (I)
Ventures
7
8
7
Kiddio
Brook Brenton
2
9
8
Yogi
Ivy Three
2
7
9
Volare
Bobby Rydell
5
13
10
A Million To One
Jimmy Charles
1
SEPTEMBER 26, 1960
Hot 100
LAST
THIS
WEEK
WEEK
TITLE
ARTIST
T10
#1
2
1
My Heart Has A Mind Of Its Own
Connie Francis
4
1
1
2
Twist
Chubby Checker
7
1
5
3
Chain Gang
Sam Cooke
3
4
4
Mr. Custer
Larry Verne
3
10
5
A Million To One
Jimmy Charles
2
3
6
It's Now Or Never
Elvis Presley
9
5
6
7
Walk, Don't Run (I)
Ventures
8
7
8
Kiddio
Brook Brenton
3
11
9
So Sad
Everly Brothers
1
18
10
Save The Last Dance For Me
Drifters
1
OCTOBER 3, 1960
Hot 100
LAST
THIS
WEEK
WEEK
TITLE
ARTIST
T10
#1
1
1
My Heart Has A Mind Of Its Own
Connie Francis
5
2
3
2
Chain Gang
Sam Cooke
4
4
3
Mr. Custer
Larry Verne
4
2
4
Twist
Chubby Checker
8
1
5
5
A Million To One
Jimmy Charles
3
10
6
Save The Last Dance For Me
Drifters
2
6
7
It's Now Or Never
Elvis Presley
10
5
7
8
Walk, Don't Run (I)
Ventures
9
9
9
So Sad
Everly Brothers
2
12
10
Theme From The Apartment (I)
Ferrante & Teicher
2
OCTOBER 10, 1960
Hot 100
LAST
THIS
WEEK
WEEK
TITLE
ARTIST
T10
#1
3
1
Mr. Custer
Larry Verne
5
1
2
2
Chain Gang
Sam Cooke
5
1
3
My Heart Has A Mind Of Its Own
Connie Francis
6
2
6
4
Save The Last Dance For Me
Drifters
3
4
5
Twist
Chubby Checker
9
1
5
6
A Million To One
Jimmy Charles
4
9
7
So Sad
Everly Brothers
3
12
8
Devil Or Angel
Bobby Vee
1
14
9
I Want To Be Wanted
Brenda Lee
1
11
10
Kiddio
Brook Brenton
4
OCTOBER 17, 1960
Hot 100
LAST
THIS
WEEK
WEEK
TITLE
ARTIST
T10
#1
4
1
Save The Last Dance For Me
Drifters
4
1
3
2
My Heart Has A Mind Of Its Own
Connie Francis
7
2
2
3
Chain Gang
Sam Cooke
6
9
4
I Want To Be Wanted
Brenda Lee
2
5
5
Twist
Chubby Checker
10
1
8
6
Devil Or Angel
Bobby Vee
2
1
7
Mr. Custer
Larry Verne
6
1
6
8
A Million To One
Jimmy Charles
5
7
9
So Sad
Everly Brothers
4
11
10
It's Now Or Never
Elvis Presley
11
5
OCTOBER 24, 1960
Hot 100
LAST
THIS
WEEK
WEEK
TITLE
ARTIST
T10
#1
4
1
I Want To Be Wanted
Brenda Lee
3
1
1
2
Save The Last Dance For Me
Drifters
5
1
5
3
Twist
Chubby Checker
11
1
2
4
My Heart Has A Mind Of Its Own
Connie Francis
8
2
3
5
Chain Gang
Sam Cooke
7
6
6
Devil Or Angel
Bobby Vee
3
11
7
Let's Think About Livin'
Bob Luman
1
9
8
So Sad
Everly Brothers
5
7
9
Mr. Custer
Larry Verne
7
1
14
10
Theme From The Apartment (I)
Ferrante & Teicher
3
OCTOBER 31, 1960
Hot 100
LAST
THIS
WEEK
WEEK
TITLE
ARTIST
T10
#1
2
1
Save The Last Dance For Me
Drifters
6
2
1
2
I Want To Be Wanted
Brenda Lee
4
1
4
3
My Heart Has A Mind Of Its Own
Connie Francis
9
2
3
4
Twist
Chubby Checker
12
1
5
5
Chain Gang
Sam Cooke
8
12
6
You Talk Too Much
Joe Jones
1
6
7
Devil Or Angel
Bobby Vee
4
7
8
Let's Think About Livin'
Bob Luman
2
26
9
Poetry In Motion
Johnny Tillotson
1
11
10
Georgia On My Mind
Ray Charles
1
NOVEMBER 7, 1960
Hot 100
LAST
THIS
WEEK
WEEK
TITLE
ARTIST
T10
#1
1
1
Save The Last Dance For Me
Drifters
7
3
2
2
I Want To Be Wanted
Brenda Lee
5
1
9
3
Poetry In Motion
Johnny Tillotson
2
10
4
Georgia On My Mind
Ray Charles
2
6
5
You Talk Too Much
Joe Jones
2
3
6
My Heart Has A Mind Of Its Own
Connie Francis
10
2
19
7
Stay
Maurice Williams & The Zodiacs
1
14
8
Let's Go, Let's Go, Let's Go
Hank Ballard
1
15
9
Blue Angel
Roy Orbison
1
7
10
Devil Or Angel
Bobby Vee
5
NOVEMBER 14, 1960
Hot 100
LAST
THIS
WEEK
WEEK
TITLE
ARTIST
T10
#1
4
1
Georgia On My Mind
Ray Charles
3
1
3
2
Poetry In Motion
Johnny Tillotson
3
5
3
You Talk Too Much
Joe Jones
3
2
4
I Want To Be Wanted
Brenda Lee
6
1
1
5
Save The Last Dance For Me
Drifters
8
3
7
6
Stay
Maurice Williams & The Zodiacs
2
8
7
Let's Go, Let's Go, Let's Go
Hank Ballard
2
16
8
Last Date (I)
Floyd Cramer
1
22
9
A Thousand Stars
Kathy Young & The Innocents
1
9
10
Blue Angel
Roy Orbison
1
NOVEMBER 21, 1960
Hot 100
LAST
THIS
WEEK
WEEK
TITLE
ARTIST
T10
#1
6
1
Stay
Maurice Williams & The Zodiacs
3
1
35
2
Are You Lonesome Tonight
Elvis Presley
1
2
3
Poetry In Motion
Johnny Tillotson
4
8
4
Last Date (I)
Floyd Cramer
2
1
5
Georgia On My Mind
Ray Charles
4
1
7
6
Let's Go, Let's Go, Let's Go
Hank Ballard
3
9
7
A Thousand Stars
Kathy Young & The Innocents
2
11
8
New Orleans
U.S. Bonds
1
3
9
You Talk Too Much
Joe Jones
4
5
10
Save The Last Dance For Me
Drifters
9
3
NOVEMBER 28, 1960
Hot 100
LAST
THIS
WEEK
WEEK
TITLE
ARTIST
T10
#1
2
1
Are You Lonesome Tonight
Elvis Presley
2
1
4
2
Last Date (I)
Floyd Cramer
3
1
3
Stay
Maurice Williams & The Zodiacs
4
1
3
4
Poetry In Motion
Johnny Tillotson
5
7
5
A Thousand Stars
Kathy Young & The Innocents
3
8
6
New Orleans
U.S. Bonds
2
12
7
North To Alaska
Johnny Horton
1
13
8
Alone At Last
Jackie Wilson
1
6
9
Let's Go, Let's Go, Let's Go
Hank Ballard
4
5
10
Georgia On My Mind
Ray Charles
5
1
DECEMBER 5, 1960
Hot 100
LAST
THIS
WEEK
WEEK
TITLE
ARTIST
T10
#1
1
1
Are You Lonesome Tonight
Elvis Presley
3
2
2
2
Last Date (I)
Floyd Cramer
4
4
3
Poetry In Motion
Johnny Tillotson
6
3
4
Stay
Maurice Williams & The Zodiacs
5
1
5
5
A Thousand Stars
Kathy Young & The Innocents
4
7
6
North To Alaska
Johnny Horton
2
11
7
He Will Break Your Heart
Jerry Butler
1
6
8
New Orleans
U.S. Bonds
3
12
9
Sailor (Your Home Is The Sea)
Lolita
1
9
10
Let's Go, Let's Go, Let's Go
Hank Ballard
5
DECEMBER 12, 1960
Hot 100
LAST
THIS
WEEK
WEEK
TITLE
ARTIST
T10
#1
1
1
Are You Lonesome Tonight
Elvis Presley
4
3
2
2
Last Date (I)
Floyd Cramer
5
5
3
A Thousand Stars
Kathy Young & The Innocents
5
13
4
Wonderland By Night (I)
Bert Kaempfert
1
6
5
North To Alaska
Johnny Horton
3
9
6
Sailor (Your Home Is The Sea)
Lolita
2
7
7
He Will Break Your Heart
Jerry Butler
2
11
8
Many Tears Ago
Connie Francis
1
3
9
Poetry In Motion
Johnny Tillotson
7
30
10
Exodus (I)
Ferrante & Teicher
1
DECEMBER 19, 1960
Hot 100
LAST
THIS
WEEK
WEEK
TITLE
ARTIST
T10
#1
1
1
Are You Lonesome Tonight
Elvis Presley
5
4
2
2
Last Date (I)
Floyd Cramer
6
4
3
Wonderland By Night (I)
Bert Kaempfert
2
5
4
North To Alaska
Johnny Horton
4
6
5
Sailor (Your Home Is The Sea)
Lolita
3
10
6
Exodus (I)
Ferrante & Teicher
2
3
7
A Thousand Stars
Kathy Young & The Innocents
6
8
8
Many Tears Ago
Connie Francis
2
12
9
You're Sixteen
Johnny Burnnette
1
7
10
He Will Break Your Heart
Jerry Butler
3
DECEMBER 26, 1960
Hot 100
LAST
THIS
WEEK
WEEK
TITLE
ARTIST
T10
#1
1
1
Are You Lonesome Tonight
Elvis Presley
6
5
3
2
Wonderland By Night (I)
Bert Kaempfert
3
2
3
Last Date (I)
Floyd Cramer
7
7
4
A Thousand Stars
Kathy Young & The Innocents
7
6
5
Exodus (I)
Ferrante & Teicher
3
4
6
North To Alaska
Johnny Horton
5
8
7
Many Tears Ago
Connie Francis
3
9
8
You're Sixteen
Johnny Burnnette
2
5
9
Sailor (Your Home Is The Sea)
Lolita
4
27
10
Corinna, Corinna
Ray Peterson
1
DECEMBER 31, 1960
Hot 100
LAST
THIS
WEEK
WEEK
TITLE
ARTIST
T10
#1
1
1
Are You Lonesome Tonight
Elvis Presley
7
6
2
2
Wonderland By Night (I)
Bert Kaempfert
4
3
3
Last Date (I)
Floyd Cramer
8
5
4
Exodus (I)
Ferrante & Teicher
4
4
5
A Thousand Stars
Kathy Young & The Innocents
8
6
6
North To Alaska
Johnny Horton
6
7
7
Many Tears Ago
Connie Francis
4
8
8
You're Sixteen
Johnny Burnnette
3
13
9
Angel Baby
Rosie & The Originals
1
10
10
Corinna, Corinna
Ray Peterson
2
Go back to the top 100 songs of all time home page.
Back to Top…